The ever-growing demand for electricity has increased the reliance on coal globally, especially in emerging economies with underdeveloped renewable energy infrastructures and pressing energy security concerns. Bangladesh is a case in point.
The country has increased procurement of imported coal in a significant way to make up for domestic scarcity of the fuel. Besides, commissioning of new coal-fired power plants has also pushed up demand for coal.
As per data compiled by CoalMint, the country's coal imports surged 44% y-o-y to 8.83 million tonnes (mnt) in CY22. Indicating strong demand, the total volume of imports in CY21 was already surpassed during the first 10 months of CY22.
At the same time, tight supply and high prices of coal in the global market forced Bangladesh to re-work its procurement strategy.
The sharp growth in imports was mainly driven by higher sourcing from Indonesia in CY22. On the other hand, intake from other traditional markets such as South Africa and Australia plunged 39% and 35%, respectively.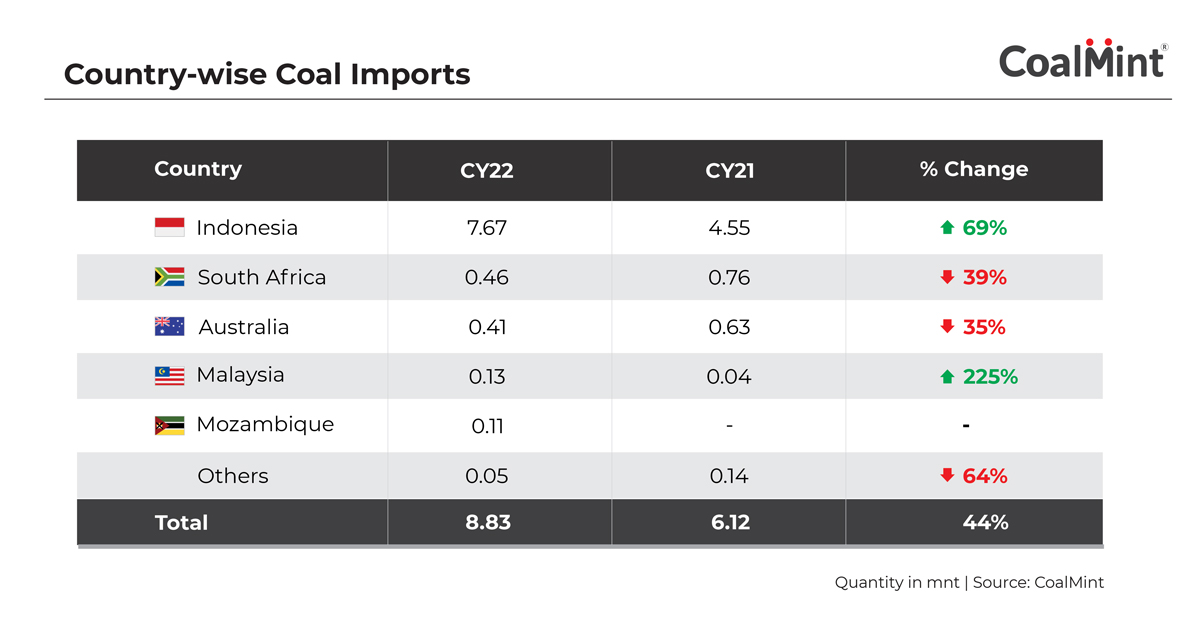 Inadequate domestic supplies
The Barapukuria Coal Mining Company (BCMCL), operator of the first and sole coal mine in Bangladesh, reported a decrease of 7% in annual coal production in FY21 (July 2020-June 2021). The company recorded 753,973 t of output in FY21 as against 811,137 t in FY20, thus attaining its lowest output in the past six fiscals.
Given this subdued performance, the company suspended sales to local buyers from 19 March, 2018, in order to secure supplies for the power units of the state-run Bangladesh Power Development Board (BPDB).
Of the total output, almost the entire volume was delivered to BPDB, while a nominal 610 t was supplied externally during FY21, as per the company's report.
In a fresh setback to the fuel security of power plants, the company is mulling to increase its coal pricing to compensate for the upward revision in royalty payable on coal. Moreover, the price hike was also necessitated to adhere to the proposed mining agreement that will require additional land acquisition to extract coal from the northern part of the mine.
It is important to note that BCMCL has been selling coal at a fixed price of $130/t to BPDB since May 2015.
Coal: A cheap option
Due to availability of gas reserves, the gas-based plants in Bangladesh hold a majority share in total power generation capacity.
Total installed capacity of BPDB-owned plants was 22,482 MW in FY22, of which gas-based plants' capacity was 11,476 MW, whereas capacity of coal plants stood at a mere 1,768 MW. Plants based on diesel, furnace oil, renewables, etc. made up for the remaining share of power capacity.

A comparative cost analysis indicates that gas is the cheapest source of power generation. However, coal was still economical than other
alternative power sources – another reason for the country's growing reliance on coal.
Coal demand accelerates
Fuelled by the commissioning of the two 660 MW units of the Payra power station, coal imports have started increasing at Payra port, which was established in order to facilitate coal imports for the power sector.
Meanwhile, at least six other coal-fired power projects are expected to be commissioned, three of which, with a total capacity of 2,800 MW, are expected to be completed soon.
As per a study by the International Energy Agency (IEA), coal consumption in Bangladesh declined by 0.8 mnt to 3.8 mnt in CY21 but is expected to grow by 2.8 mnt in CY22.
The report suggests that the country's coal power fleet would increase to around 5,000 MW by CY25, boosting annual coal demand to 19 mnt.
2nd Asia Coal Outlook & Trade Summit
Is Bangladesh's energy security at a crossroads with the withdrawal of foreign investments from the country's power sector? Does the country share this predicament with other emerging economies in Asia that are grappling with energy security concerns amid global inflation and depleting investments in coal-based assets? Want to be a part of the discussion? Check out registration details for CoalMint's 2nd Asia Coal Outlook & Trade Summit to be held at Grand Hyatt Erawan in Bangkok, Thailand on 24-25 April, 2023.