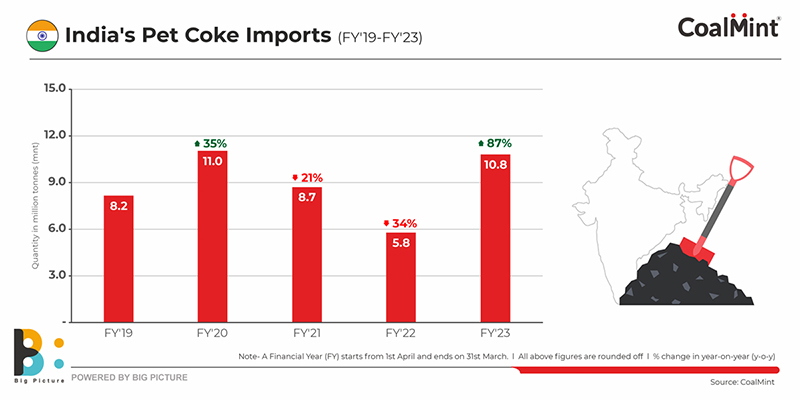 DGFT allows low-sulphur pet coke blending of up to 10% in coke ovens
Sulphur level fixed at below 3% for integrated steel mills
High-quality coke to boost BF energy efficiency 
The Director General of Foreign Trade (DGFT), under the Union Ministry of Commerce & Industry, has allowed imports of low-sulphur pet coke (below 3% sulphur) for use in recovery-type coke ovens of the Integrated Steel Plants (ISP) in the country, as per a recent notification accessed by CoalMint.
The maximum permissible blending ratio of pet coke in recovery-type ovens has been fixed at 10%, while continuous analysers for measurement of sulphur dioxide emissions through waste/process gases shall have to be installed, which shall be monitored by the State and Central Pollution Control Boards (SPCB/CPCB).
Backdrop  
In its 2017 order, the apex court had ruled that no imports of petroleum coke for use as fuel, as opposed to feedstock, would be allowed. Soon after, the Indian Steel Association (ISA) filed an application seeking permission for usage of imported low-sulphur pet coke in steel plants, arguing that steel plants do not use pet coke as a fuel but as an additive.
"Feedstock is more of a raw material used for the manufacture of a product. In the case of coke ovens, coal is the feedstock for making coke. Additive refers to any substance added in small quantities to the raw material to improve the quality of the product. In the case of steel industry, pet coke is an additive to coal, which is added to improve the quality of coke," the ISA had stated in its application.
In a report published in 2018, the Environment Pollution Control Board (EPCA) argued that pet coke imports by steel plants should not be permitted as "it will open the floodgates in terms of use of pet coke and defeat the very purpose of the ban on imports" of this "dirty fuel". In its latest notification, however, the DGFT has reconfirmed – as per the 2017 SC ruling – that imports would be allowed only as a feedstock and not as fuel.
Benefits
Blending of low-sulphur and low-ash pet coke in coke ovens is intended to improve the quality of coke used in the blast furnace (BF) and result in higher efficiency. The ash content of pet coke is only about 0.3% compared with 9-10% for premium imported coking coal. Higher fixed carbon (FC) in high-quality pet coke and low volatile matter (VM) is ideal for BF. Reducing coke consumption in BF-BOF processes is a low-hanging fruit, targeted by global steelmakers. For instance, ArcelorMittal's Ghent facility in Belgium blends up to 10% pet coke in coke ovens, a ratio compliant with the European emissions limits for sulphur dioxide (< 500 mg/Nm3).
Typical coke consumption in Indian plants ranges between 344 and 400 kg/thm (tonne of hot metal) compared to the global average of 280 kg/thm. "Pet coke provides both economic and environmental benefits – reduced transport emissions, ash generation, and production emissions – with minimal additional investment," a steel mill source said.
Emissions apart, another objection raised against pet coke usage is the seepage of sulphur into steel – an unwanted impurity which increases the brittleness of steel and reduces its corrosion resistance. An increase in the sulphur content of coke would require additional volumes of limestone to remove sulphur as slag. Furthermore, this reaction of sulphur with limestone is endothermic in nature, which means that to compensate for the heat loss, more coke would have to be fed into the furnace, thereby increasing the sulphur content. Also, increasing the pet coke blend beyond 15% reduces coke strength and increases the coke's reactivity index, thus impairing its suitability for BF operations.
However, a CPCB study of JSW Steel's Vijaynagar facility has found that only 2% of sulphur content in the coal blend is liberated as hydrogen sulphide and is emitted along with the coke oven gas (COG) in a recovery-type oven. While 67% of the sulphur is absorbed by the coke, another 31% is retained in sludge and tar. The hydrogen sulphide is removed as elemental sulphur in the desulphurisation plant, and the residual sulphur content falls to less than 250–500 mg/Nm3 in COG. When the COG is combusted, the resultant sulphur dioxide emissions can be as low as 125–150 mg/Nm3 against an emissions norm of 600 mg/Nm3.
However, for non-recovery-type ovens, around 19% of the sulphur content in the coal blend is directly released in COG as sulphur dioxide. Thus, in this process, the percentage of pet coke blend is limited by the emissions limit of 600 mg/Nm3. However, in India, all ISPs have recovery-type ovens.
Moreover, a 10% share of pet coke in the coal blend means a 10% reduction in prime coking coal consumption. Coking coal accounts for around 40% of total steelmaking costs. In times of energy market volatility, such as last year when premium HCC prices had crossed $650/t, that share touches around 55-60%. So, there is an argument to be made in terms of cost efficiency, too.
Way forward   
Much like increasing the use of pulverised coal injection (PCI) in the BF, increased usage of pet coke in the coal blend is intended to boost BF energy efficiency, reduce coke consumption, and thereby directly reduce emissions. For the integrated steel plants increasing process efficiencies within existing steelmaking infrastructure is a vital interim measure in achieving decarbonisation goals.
3rd India Coal Outlook Conference 
Interested to gain a deeper insight into the techno-economics of increasing pet coke usage in coke production and steelmaking? Hear experts deliberate on 'India's Steel Production Targets and Emerging Raw Materials Demand Scenario' at CoalMint's 3rd India Coal Outlook Conference – to be organised parallelly with SteelMint's 5th Iron Ore & Pellet Summit and 5th DRI & Metallics Conference – at JW Marriot, Kolkata from 24-26 August, 2023.