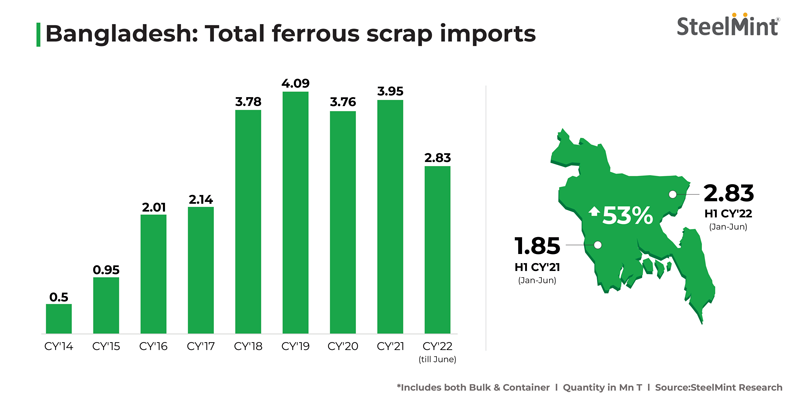 Imported scrap volumes into Bangladesh, a major bulk ferrous scrap buyer, imports bulk ferrous scrap 1.76 mnt in H1 CY2022 (January-June, 2022) vis-a-vis 1.09 mnt in H1 CY2021.
The country's imports rebounded in June 2022 by 57% to 0.33 million tonnes (mnt) from 0.21 mnt in May 2022, as per SteelMint's vessel line-up data.
Stocking by Bangladesh's leading steel mills gained momentum in June through bookings of bulk cargoes ahead of the holy festival of Eid. They could restock material at lower price levels due to lower freights. The country imported a total of 4.42 lacs tonnes of ferrous scrap in June 2022, which comprised 70% in bulk and 30% in containers, as per SteelMint sources.
Country-wise data:
Imports from US skyrocketed: Imports from the US, the largest supplier of bulk scrap to Bangladesh, witnessed a sharp rise m-o-m as freight rates of bulk material were low in comparison to that for containers. Shipments of 0.16 mnt were recorded in June, up a whopping by 129% from 0.07 mnt in May.
Imports from Japan resume: Interestingly, Bangladesh's scrap imports from Japan resumed in June. The country imported 0.05 mnt in June, compared to nil in the previous month.
Price trend: SteelMint's monthly average price assessment for US-origin bulk HMS (80:20) scrap stood at $543/t CFR Chittagong in May as against $655/t CFR in April.
Setting up of new furnaces: A few steel mills in Bangladesh are planning capacity expansion or to set up new furnaces. However, these projects are still underway and may be completed by CY2023. Once completed, this will increase the steel mills' scrap consumption in the years to come.
Outlook
Bulk imported scrap buyers are observing the market closely before resuming the next round of bookings. Not many offers for bulk US scrap for July shipments were heard.
Join our event to know more on whether Bangladesh' scrap imports will touch 6 mnt by 2025.
SteelMint Events will be hosting the 3rd Steel & Raw Material Conference, Emerging Bangladesh on 20-21 September, 2022 at Hotel Radisson Blu, Chittagong, Bangladesh. The conference will explore key issues like the country's steel production and demand outlook, global scrap trade flow changes, especially post-the Russia-Ukraine war, the ship recycling scenario, key emerging sectors, price trends and a lot more.