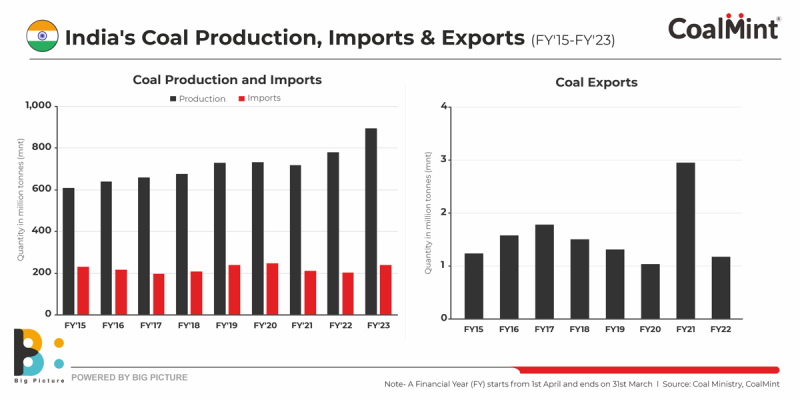 India recorded highest-ever coal production of over 890 million tonnes (mnt) in financial year 2022-2023 (FY'23), while Coal Ministry projections show that coal supply (domestic + imports) may rise to 1,692 mnt by FY'30.
State-owned Coal India Ltd. (CIL) is expected to raise production to around 1,120 mnt by FY'30 even as the captive and commercial mines may witness an exponential growth of 130% in production to 281 mnt by that time from around 122 mnt at present.
Despite surging electricity demand–at a CAGR of over 4% till 2030–imports of bituminous and steam coal are expected to edge down to around 95 mnt by FY'30 from nearly 140 mnt currently. Imports will largely be of non-substitutable G1-G8 grades of coal.
However, and this is the most interesting part, with domestic miners raising production with each passing year, the government is mulling to channel surplus coal to the export markets–essential in addressing the energy security needs of subcontinental neighbours.
In a draft version of the 'Integrated Coal Logistics Plan', the Ministry of Coal (MoC) has outlined a roadmap to export 25-30 mnt of coal by 2030 from mines located in the eastern region. India currently exports merely 1-2 mnt of coal annually.
Emerging opportunities
CIL's largest subsidiary Mahanadi Coalfields Ltd (MCL) has emerged as a suitable candidate for exploring the export market. In its rail dispatch plan for 2030, MCL has set a target of 298.88 mnt of supply from the current level of 117.8 mnt. This volume is substantially higher than the tentative supply of 192.02 mnt taking into account demand projection from adjoining states along with requirement for coastal movement of coal.
Even an increase in e-auction volumes has proved insufficient in filling the void. In this scenario, the MoC has suggested that the surplus coal can be used for creating a long-term sustainable export market. MCL's proximity to sea ports is an advantage when it comes to transporting coal to neighbouring countries.
Prospective markets
In the proposed logistics plan, Bangladesh has been identified as a potential export destination. The MoC has pointed out that coal can be transported via two possible routes:
(a) shipment to Bangladesh's Chittagong Port via Paradip Port
(b) supply via rail from MCL's Talcher coalfields to Haldia and further to Bangladesh's power plants via the India Bangladesh Protocol Route
Bangladesh is planning to build new coal-fired power plants. Accordingly, thermal coal demand for power generation is forecast to rise from the present 2.3 mnt to 21-25 mnt by 2025. However, the government is facing difficulties in developing planned capacities due to financing and coal availability issues.
At present, Bangladesh relies on Indonesian coal and, as per MoC data, the average price of Indonesian 4,200 GAR coal is assessed at around $112.725/t CNF Bangladesh.
A landed-cost on an energy basis comparative analysis shows that MCL's coal of 2,950-3,850 GCV is priced between INR 2,534 and INR 2,976/t ($30-36/t) on CNF Bangladesh basis. This highlights the huge disparity between prices from these two origins–one of the key reasons for Indian coal emerging as a substitute for Indonesian material.
The coal logistics plan also makes a case for exporting around 4 mnt of coal to Sri Lanka, replacing current volumes from South Africa, to fuel the 900 MW Lakvijaya power plant in the island nation.
The price of 2,950-3,850 GCV coal from MCL on a CFR Sri Lanka basis is seen at INR 3,088-3,530/t ($37.40-$42.75/t), compared to $172.09/t CFR Sri Lanka for 4,800 NAR coal coming from South Africa.
In order to explore export prospects to Sri Lanka, transporting coal to Lakvijaya's unloading coal jetty via Dhamra Port has been identified as a viable option.
Challenges
The export plan indicates possible congestion in rail networks which poses a threat to the existing coal supply chain. Notably, exports to Bangladesh will require additional coal transportation via railways to the tune of 17.79 rakes/day, while moving coal to Sri Lanka will require additional transportation of 2.85 rakes/day.
Thus, any scenario involving transportation of addition tonnage for exports would necessitate upgrade of rail infra projects. The MoC has informed that the new Angul-Sukinda rail line would ease congestion on major routes such as Budhapank to Rajatgarh and Cuttack to Paradip. Besides, Dhamra Port can handle around 20 mnt of coal for coastal shipping and exports.
Outlook
The prospect of exports holds vital importance for CIL's production growth, as it would provide assurance against fluctuating demand from the non-power sector and the threat emerging from renewables.
Nonetheless, despite the projected rise in exports, India will remain a net coal importer as the dependency on coking coal and high-CV steam and bituminous coals is expected to remain in the foreseeable future.
The planned development of rail and port infrastructure is also likely to encourage commercial miners to explore export markets, given that restrictions on coal utilisation from the auctioned blocks have been lifted.
3rd India Coal Outlook Conference
Register for the 3rd India Coal Outlook Conference to be held at JW Marriott, Kolkata from 24-26 August, 2023, to gain an incisive insight into CIL's production and dispatch outlook, changing e-auction dynamics, ongoing initiatives to expand underground coal mining, as well as sustainable mineral exploration drives.