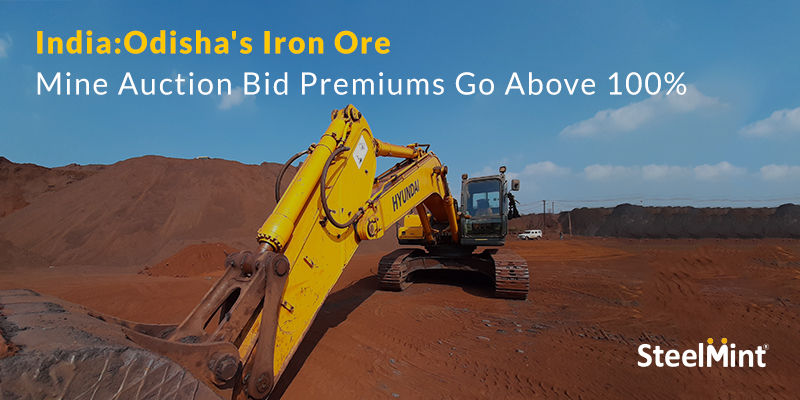 Last week to this week, the state government auctioned four mines (two captive and two merchant). The auctions received aggressive bids. The first block that was auctioned on 29th January for Nuagaon mines (reserves 792.93 MnT), was won by JSW Steel Ltd which bid 95.2% for the block.
The second block was auctioned on 30th January for Narayanaposhi mines (reserves 190.6 MnT), and was also won by JSW Steel with its bid at 98.55 %.
The third block, Thakurani(reserves 180 MnT), fetched highest premium at 107.55% and was won by ArcelorMittal. The fourth block, Balda iron ore (reserves 210.17 MnT) was retained by Serajuddin and Co. at a premium of 118.05%.
Another 15 mines will be put under the hammer on a daily basis and market expects aggressive bidding for most of them. In addition to the current list of 20 mines, a new list of 7 mines will also be introduced for auctions this month.
What does the premium signify?
The premium is the key figure to evaluate the bids. This premium is a percentage of the price of the iron ore that is set by the Indian Bureau of Mines (IBM) each month for different states and grades. The premium will be taken by the state as its tax.So if ArcelorMittal's winning bid is 107.55%, it means, ArcelorMittal will pay 107.55% of the monthly value of the IBM set price of iron ore to the state government. This will be on per tonne of iron ore sold by ArcelorMittal.
The premium is not the only tax the new owners will pay to the state government. There will also be a royalty 15% of base price, District Mineral Fund contribution 30% of Royalty and NMET (National mineral exploration trust) 2% of Royalty that will be charged separately on the base price. Premium and royalty will be charged on sales of iron ore and not on production.
The high premiums are set to put iron ore prices on a different orbit altogether. Since many of the large companies are emerging as the winners, they will become the new price makers in the market.
Track the results of Odisha mines auction & bids received as on 5th Feb 2020 below:
To learn how the mines auction 2020 unfolds, be a part of SteelMint Events' 4th Indian Iron ore, Pellet and DRI Summit which is scheduled on 2-3 March 2020, in Hotel LaLiT, New Delhi.