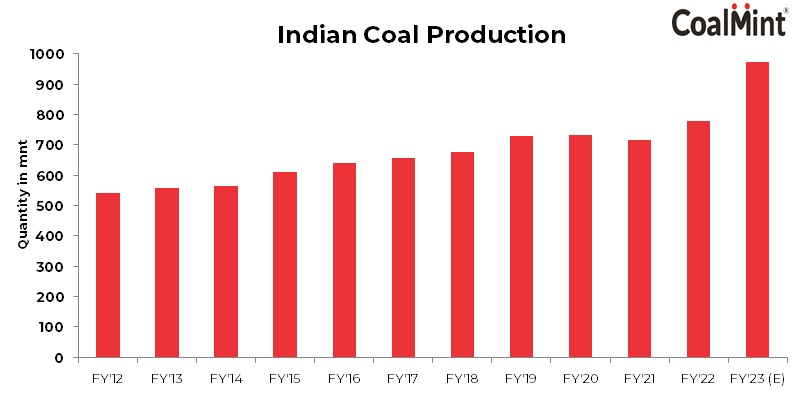 The Minister for Coal, Mines & Parliamentary Affairs, Pralhad Joshi, said on Tuesday that India's coal production is set to cross the 900 million tonnes (mnt)-mark in financial year (FY)'23, as the country ramps up efforts to meet a phenomenal surge in power demand.
Speaking at the 6th National Conclave on Mines and Minerals, the minister stated: "Coal production in FY'22 was around 777 mnt. In the current fiscal we are trying to increase production to 900-920 mnt. Challenges are multifold but the government's affirmative policies have boosted coal output from around 570 mnt in 2014-2015 to over 760 mnt in 2021."
Joshi underlined the fact that international geopolitical disruptions have fuelled energy prices to historic highs and supply and price of natural gas has been gravely affected due to the ongoing turmoil in Russia.
This, coupled with sanctions on Russian exports, are driving energy prices higher at a time when domestic coal supplies are falling short of satisfying the exponential growth in industrial and domestic electricity demand.
Production outlook
The minister, however, had earlier pointed out that state-owned Coal India Ltd. (CIL) has the potential to jack up output to around 760-780 mnt, while the captive power producers could increase production to around 120-130 mnt, with additional production expected from the mines auctioned under the commercial auctions – which should be around 5 mnt.
The policy enablers have mainly been the amendments that the government brought about as regards revising the MMDR Act, with respect to erasing the end-user distinction for allocation of blocks, and also enabling 50% of sales of minerals after satisfying end use requirements and relaxing exploration norms.
Further relaxations have been mooted in the form of allocating mines to the private sector, especially the coking coal blocks. Measures to enhance production are in place, the minister said, with the abandoned coal blocks being sought to be operationalised.
Production climb 32% in Q1
India's coal production increased by 32% y-o-y to 205.56 mnt in the first quarter of FY'23 (Apr-Jun'22) against 155.85 mnt in the corresponding period of FY'22.
CIL produced 159.75 mnt of coal during Q1FY'23, thereby registering a steep rise of 29% y-o-y.
Notably, this is the highest output recorded by the company in the first quarter of a fiscal – a period during which it usually tends to lower production in view of surplus inventory available at mines.
However, in order to keep pace with soaring power demand, the company has recorded production in excess of 50 mnt in each of the first three months of FY'23. In contrast, the production mark of 50 mnt was first touched in November of last fiscal.
In addition, a substantial growth was witnessed from the captive and commercial mines that have been allocated. Overall production from these blocks jumped 79% y-o-y to 27.7 mnt in Q1FY'23, supported by operationalisation of new mines.
At present, a total of 36 mines are operational. The Ministry of Coal has informed that 12 additional mines will start production this fiscal year.