Decreased imports from China drag down total volumes
Shipments seen from Lloyds as EC increases to 10 mntpa
Weak global steel demand weighing on near-term exports
Both iron ore and pellet exports fell m-o-m in May, reveals data maintained with SteelMint.
Iron ore exports fell around 4% to 2.88 million tonnes in May, 2023 against 2.99 mnt notched up in April. Pellets exports fell a steeper over-30% to 0.51 mnt in the month under review compared to April's 0.74 mnt.
Country-wise exports
Export shipments of both iron ore and pellets to China registered a m-o-m fall in May.
Iron ore: Data reveals that China was the lone importer of India's iron ore in April and May. Naturally, India's total iron ore exports drop coincided with China's imports drop m-o-m in May.
Pellets: China was also the largest pellets importer in May. However, its volumes declined a sharp 60% to 0.29 mnt in May against a heftier 0.74 mnt in April.
Other countries which resumed pellet imports from India after a two-month gap were Indonesia with 75,000 tonnes (t) and Malaysia (over 89,000 t). However, these countries do not import on a regular basis. Korea entered the charts with a mere 54,000 tonnes.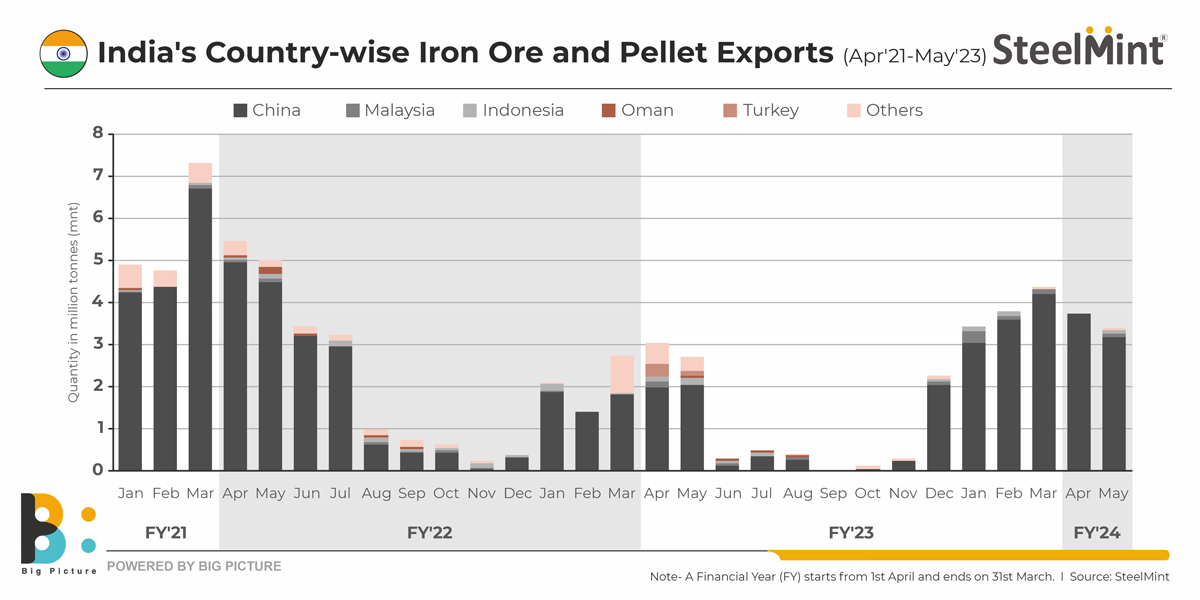 Company-wise exports
Iron ore: Vedanta was the largest exporter in May with 0.64 mnt, which was a 28% m-o-m increase against 0.48 mnt in April. Rungta Mines followed with a 12% rise at 0.62 mnt (0.57 mnt in April).
Pellets: Rungta Mines edged past other players to first position with 0.24 mnt in the export kitty, a significant 52% increase against 0.16 mnt in April. AM/NS was relegated to second rank with 0.13 mnt (up 19% from 0.11 mnt in the previous month).
Market highlights
Export shipments were seen from Lloyds in May as its environmental clearance (EC) has increased from 3 mntpa to 10 mntpa.
Exports from Karnataka have also picked up post-clarity in the Supreme Court order.
JSW exported nearly 240,000 t of iron ore from Odisha to China last month.
NMDC, in its recently-concluded investors call, informed that it has no plans to enter the exports market in the near future.
Factors that dragged down May volumes
Drop in global iron ore prices: Prices of iron ore hit a 6-month low and the monthly average prices of the benchmark Fe62% fell by $12/t m-o-m. This had an adverse impact on global iron ore export offers, much to the discomfort of the miners. Iron ore prices were dragged down by the overall decline in global steel prices and the weak demand signals from China.
Pellet export realisations drop vs domestic: Pellet export realisations eroded by INR 2,000/t compared to domestic. This fall was a function of the demand drop in China and consequent decrease in export offers globally — for finished steel and raw materials.
Fall in Chinese demand: The decline in China's imports was a key factor that dragged down India's overall exports of both metallics. In iron ore, China was the lone importer last month. In pellets, its volumes were more than treble of Indonesia's or Malaysia's. The expected upswing in steel demand is eluding China with the construction segment still not showing adequate recovery.
Outlook
India's exports of iron ore and especially pellets are likely to drop further in June, considering the persistent weak global steel demand scenario.