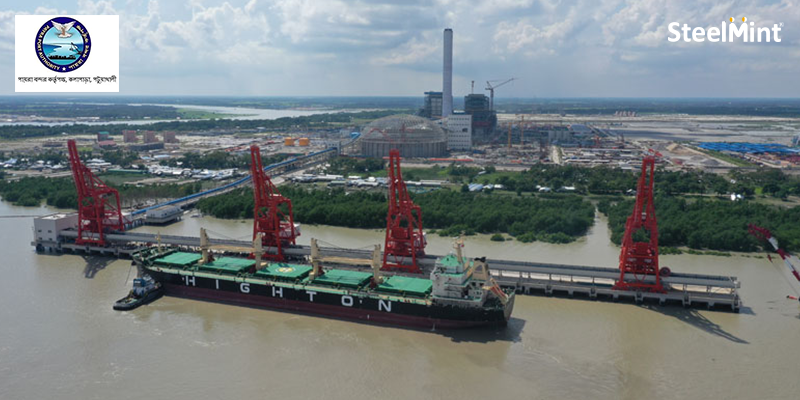 Government of Bangladesh has intended to develop a coal terminal at Payra port to facilitate coal movement for its upcoming power station, by appointing private participants to carry out the expansion work.
Payra, the third sea port of Bangladesh situated on the bank of Rabnabad channel under Kalapara, is located in the sub-district of Patuakali. The port was inaugurated 19 Nov'13 to assist in transportation of various commodities including food grain, cement, fertilizer and other bulk containers to Dhaka and other destinations through internal waterways.
However, in order to cater the anticipated rise in coal demand of the power station proposed by Bangladesh-China Power Company, the government has planned expansion of the port by envisaging a dedicated coal terminal.
The selection of the private partners for developing the terminal would be carried on the basis of International Competitive Bidding (ICB), for which interested bidders have been asked to give their consent.
The Payra port authority has stated that the bidders are supposed to design, build, finance, operate and maintain the coal/bulk terminal. In addition, it was specified that the pertaining job should be transferred back to the owner based on the terms and conditions set out in the contract.
The port authority has highlighted that that bids are to be submitted on or before 1200 hours BST, 17 Feb'2020, and should be accompanied by a bid security amount of BDT 240 Million.
Recent Development:
Payra port had received its coal consignment on 19 Sep'19, where a vessel laden with 20,000 MT coal reached the jetty of the Payra port.
The coal was bought from Indonesia by the Payra power plant which has been build under the flagship of Bangladesh-China Power Company (BCPCL). Incidentally, it was the first ever shipment for coal-based power plant in the history of Bangladesh.
Officials from the Payra power plant have reported that the first unit of the 1320 MW power station would be commissioned on 27 Jan'2020. The plant is likely to import 40 Lakh Tonnes of coal annually through the Payra port.
Bangladesh is more dependent on gas for its power generation but are energy equations changing? To know, participate in the Bangladesh Coal Conference 2020.