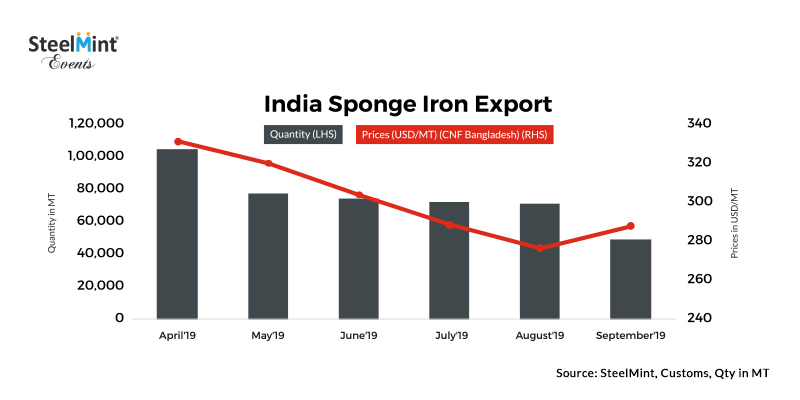 Indian sponge iron exports have observed a sharp jump of 62% in first six months of FY20 (Apr-Sep'19) against the same period last year, according to data maintained with SteelMint. Exports have increased on account of rising demand from neighboring countries primarily from Bangladesh.
Indian sponge exports were recorded at 450,000 MT in H1 FY20 against 278,000 MT in H1 FY19, up by 62% Y-o-Y. India exported 237,700 MT sponge iron to Bangladesh in H1 FY20 against 166,570 MT in H1 FY19 registering an increase of 43% Y-o-Y.
Bangladesh has 6 MnT melting capacity currently and is likely to increase to 11 MnT by 2025.
Bangladesh accounted for 59% share in Indian sponge exports – Indian sponge iron total export volumes in FY'19 was recorded 685,816 MT, out of which Bangladesh occupied a share of 59% followed by Nepal (16% share), Bhutan (15% share). Other destinations were – Malaysia, Kenya etc.
Indian sponge iron export prices observed downtrend – Indian sponge iron export prices to Bangladesh fell from USD 330/MT, CNF Chittagong levels in beginning of Apr'19 to USD 270/MT, CNF towards end of Oct'19 following decline in Indian domestic sponge offers.
To know more on Bangladesh sponge iron imports, book your seat at SteelMint's 3rd Steel and Raw Material Conference, Bangladesh and get a chance to hear views of renowned industry participants from across the globe. The conference is being organized on 23rd-24th March 2019 in Chittagong, Bangladesh.