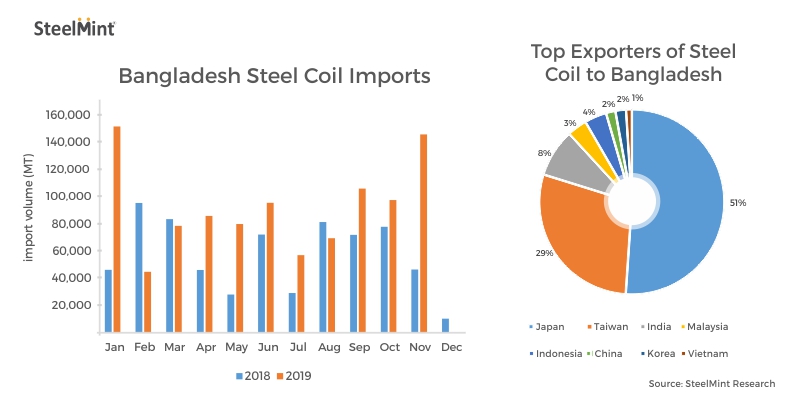 One of the emerging steel markets – Bangladesh is rising up to be a major importer of bulk steel coil for raw material in its cold rolling and galvanizing industries. According to data maintained with SteelMint, in Nov'19, Bangladesh's bulk steel coil import has witnessed a sharp surge with a flurry of Bulk cargoes arriving at berth, leading its monthly imports to reach the highest volume in the last 10 months.
The bulk HRC imports by the country rose by 50% M-o-M as Bangladesh imported 145,795 MT of of Steel coil in Nov'19 as compared to 97,463 MT on Oct'19. Prior to this, the highest import volume was observed in Jan'19 when the steel coil imports were recorded at 151,628 MT. It is to be noted that Nov'19 HRC import volume was 2nd highest in over 4 years since Aug'15.
Japan continues to remain the largest HRC exporter to Bangladesh
Among the major exporters of steel coil to Bangladesh, Japan has continued to retain the pole position, exporting 98,438 MT of material alone in Nov'19, with a share of just under 68% in the total imports by Bangladesh. Taiwan, India and Malaysia with one bulk vessel each stood at the other top exporters to Bangladesh.
In a Y-o-Y comparison for the period of Jan-Nov, Bangladesh has registered a staggering growth of around 49% Y-o-Y, with its imports in 2019 (Jan-Nov) being reported at 1,008,054 MT, breaching the 1 MnT mark in annual import volume for the first time ever, in comparison to 678,145 MT in 2018 (Jan-Nov)
In 2019 (till Nov'19), Japan stood as the largest supplier of Steel coil to Bangladesh with a 51% of share in its total imports this year, as it supplied 514,767 MT of material during Jan-Nov'19, up by 7% y-o-y in comparison to the same period in 2018. The other top suppliers to Bangladesh in 2019 were Taiwan, India, Indonesia and Malaysia with a share of 29%, 8%, 4% and 3% respectively in Bangladesh's total imports this year as of yet.
Interestingly, Taiwan has increased its export volume to Bangladesh by more than six folds in 2019, registering a 652% Y-o-Y and supplying 289,735 MT this year as compared to just 38,528/MT in 2018, thus looking to compete with Japan as the top supplier in the coming years.
Overview of Bangladesh flat steel industry
Major players in Bangladesh's flat steel industry include PHP Steel Complex, Abul Khair and KDS Group.
PHP Steel Complex is now operating 4 separate industries that are; PHP Cold Rolling Mills Ltd., PHP Continuous Galvanizing Mills Ltd., PHP NOF Continuous Galvanizing Mills Ltd., and the captive power plant- PHP Power Generation Plant Ltd. The current total production capacity is 0.25 MnTPA.
Abul Khair has renowned flat steel products, namely 'Goru Marka Dhew Tin', 'Cow Brand Colour Coated Steel' & 'Zinkalum' with a production capacity of over 750000 MTPA.
KDS Group has monthly capacity of 3,000 MT of color coated steel, 8,000 MT for galvalume and 6,000 MT for GI.
Outlook
In recent visit to Bangladesh, SteelMint learned that steel mills are completely reliant on imported HRC for their coated & color coated units. Existing players are eyeing for capacity enhancement in coming years. This will surely keep HRC import volumes to Bangladesh on higher side.
To know more about the finished flat steel industry in Bangladesh book your seat at SteelMint Events' 3rd Steel and Raw Material Conference, Emerging Bangladesh and get a chance to hear views of renowned industry participants from across the globe. The conference is being organized on 23rd-24th March 2020 in Chittagong, Bangladesh.