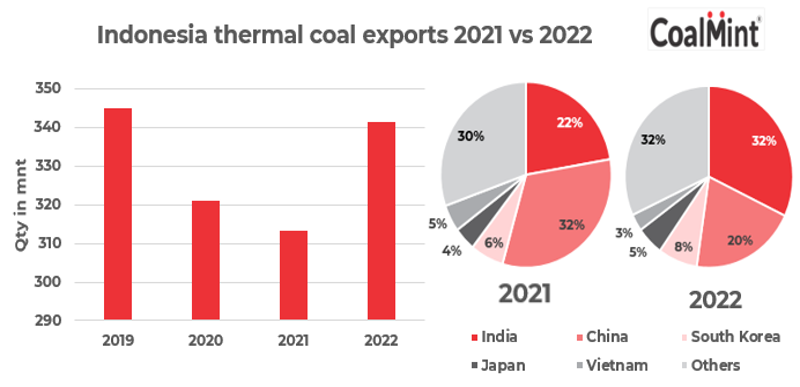 Indonesia's thermal coal exports increased by 9% y-o-y to 341.3 million tonnes (mnt) in calendar year 2022 (CY22), CoalMint data shows. Exports to India rose by 57% y-o-y. However, shipments to China and Vietnam recorded a decline in 2022.
Indonesian shipments to India stood at 109.43 mnt in 2022. India faced a sultry summer in the year gone by, compelling the government to mandate power utilities to import 10% of their coal requirements for blending with domestic coal. Of the total volume of Indonesian coal imported by India last year, about 60% was imported during March-July when summer was at its peak.
India apart, Indonesian coal shipments to South Korea and Japan increased by 30% and 37% y-o-y to 25.84 mnt and 17.65 mnt, respectively.
In a significant development, Indonesia turned out to be the preferred destination for thermal coal imports by some Asian countries amid altered global trade dynamics. Sanctions on Russian coal imposed by the European countries resulted in increased demand for Australian coal from Europe. This played a crucial role in keeping Australian coal prices elevated. As a result, key buyers of Australian coal such as Japan and South Korea opted for more Indonesian coal.
High-CV Indonesian 5800 GAR coal prices averaged $170/t FOB in CY22, an increase of 53% y-o-y. In contrast, Australian 5500 NAR coal prices averaged $196/t FOB in CY22, 14% higher than Indonesian thermal coal prices.
Indonesian coal exports to Vietnam dropped as the country used more of domestic coal and avoided importing coal due to high prices.
Outlook
Indonesian thermal coal exports are likely to remain under pressure in the coming months as rising COVID-19 cases in China – a possible fallout of the Lunar New Year celebrations – may impact logistics, industrial activity and power demand. In India, demand from the power, textiles and cement industries may remain subdued due to increasing domestic production. However, the government's recent mandate to power plants to import 6% of their overall requirements as a safeguard measure for the peak summer season is most likely to drive imports in the short term.
2nd Asia Coal Outlook & Trade Summit
Will Indonesian coal imports grow in the short-to mid-term due to cost competitiveness amid changing global trade flows? Or will rising domestic power generation by PLN tilt the policy focus towards conserving more fuel for domestic use? Follow the discussion at CoalMint's 2nd Asia Coal Outlook & Trade Summit to be held in Bangkok, Thailand, on 24-25 April, 2023.