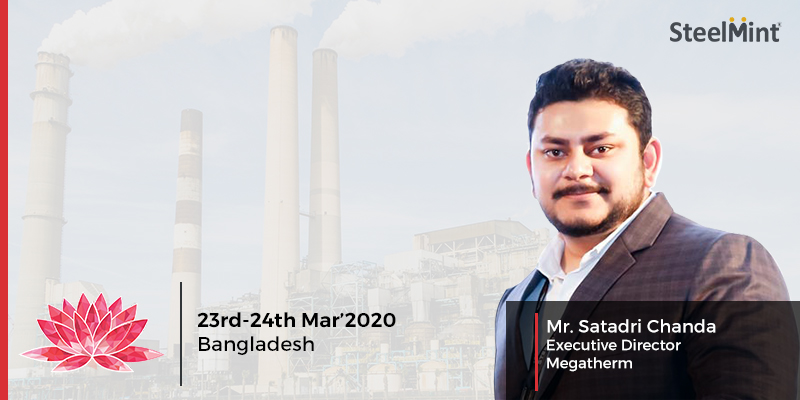 Mr. Satadri Chanda, Executive Director of Megatherm since 2016, shared his views about the induction furnace market in Bangladesh and future prospects of the company's new energy-efficient "green induction furnace" in the emerging steel industry of this country. Below is an edited excerpt from his recent interview to SteelMint.
Q1. How many induction furnaces for steel melting are operational in Bangladesh? What is the share of Megatherm in the same?
A. With respect to steel melting, there are around 90-95 induction furnaces currently operational in Bangladesh, while around 4-5 "green IFs" are on the verge of being commissioned in the next 5-6 months. In Bangladesh, most of the mills have replaced their old smaller furnaces with larger 15-20 tonne furnaces in the last five years, apart from new furnaces being set up by the existing players.
Coming to Megatherm, it has about 50 induction furnaces operational in Bangladesh considering many old furnaces have been replaced by new ones.
Q2. What are Megatherm's steel capacities in the pipeline?
A. We have over half a dozen new IFs in the pipeline for Dhaka and Chittagong mills over the next 12-18 months.
Q3. When was Megatherm's new Green Furnace launched in the Asian market and how is this Green Furnace better than its predecessors?
A. Launched in late 2017, the Green Furnace has been very successfully received in the global market, including India and Pakistan, and now it is making strides in Indonesia, Iran, Saudi Arabia and other markets. It will be formally launched in the Bangladesh market this year.
Green furnace guarantees an energy consumption of 460 kWh/t to 470 kWh/t (using mill heavy/end cutting scrap at 1600°C), which is significantly more efficient than the consumption of 515 – 545 kWh/t recorded by its predecessors and 500 – 510 kWh/t recorded by latest models of other brands.
Apart from this, the Green Furnace also guarantees up to 8% increase in productivity compared to the previous record-holding furnaces without the need for furnace capacitor switching as well as a the sustained power factor of over 98% throughout the heat cycle. The load factor has been improved to 95% by increasing power pick-up.
Q4. Since when have you planned to start marketing Green Furnaces in Bangladesh. How has it been received so far?
A. While some green furnaces have been sold to Bangladesh mills for observing results and customizing to suit Bangladeshi operating conditions, the Green Furnace will be formally launched during the event. We have recently installed green induction furnaces of 20 T each in Salam Steel, Vikrampur Steel and Montana Steel which have all been commissioned, while another green IF of 20 T at Bandar Steel is about to be commissioned in the first half (H1) of 2020.
Q5. With Megatherm currently being more dominant among Dhaka-based steel mills with up to 20T furnaces, is there any conscious plan for growing Megatherm's share in the larger mills of Chittagong?
A. Megatherm has always depended on product superiority and word of mouth, to ensure sales. Strong active marketing has not been Megatherm's mode of operation. In all regions where one Green Furnace has been commissioned, we have got a majority market share. Examples include Durgapur, Raipur, Champa, Pakistan and very recently Hyderabad. We expect the same with Chittagong.
Q6. In your view, what are the major challenges being faced by Bangladesh-based steel mills with regard to melting furnaces?
A. Bangladesh steel mills are not run as efficiently as plants based out of India and some other regions. This further increases the need to have a more energy-efficient and productive furnace.
The Megatherm Group is a renowned manufacturer of industrial equipment for metal heating and melting and has its presence across industries like steel, foundry, forging and power. The company is one of the leading players in the induction furnace installations space for steel manufacturers across South Asia and other regions.
To know more on growing steel melting capacities in Bangladesh and challenges ahead, book your seat at SteelMint's 3rd Steel and Raw Material Conference, Bangladesh and get a chance to hear views of renowned industry participants from across the globe. The conference is being organized on 23rd-24th March, 2019 in Chittagong, Bangladesh.