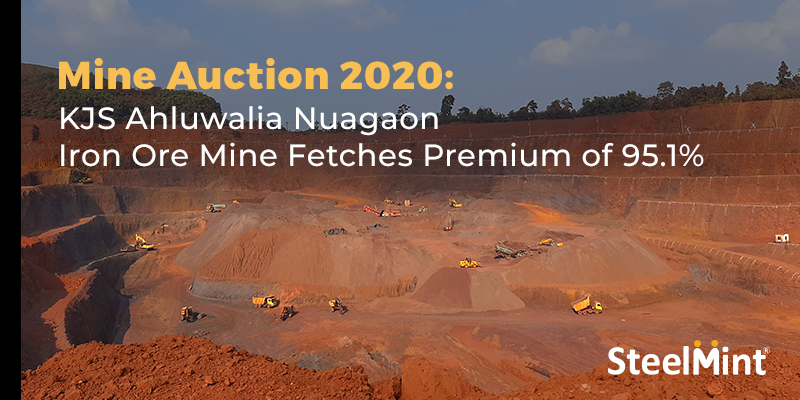 The much awaited Odisha mine auctions 2020 is well underway. State govt has started technical bidding for Nuagaon iron ore mine block on 29th Jan'20. As per sources, six companies namely – Rungta Sons Ltd, Arcelor Mittal India Pvt Ltd, JSW Steel Limited, Vedanta Ltd, Adani Enterprises Limited and TS Alloys Limited had qualified the technical round.
The mine fetched the highest premium of 89.4% in the technical round, following which the govt started the 2nd round of auctions. Notably, the highest initial price offer amongst the technically qualified bidders was set as the floor price for the second round of auction. Witnessing an aggressive bidding, the mine fetched highest 'final price offer' of 95.1%.
What does the premium of 95.1% mean? The 'final price offer' submitted is a percentage of value of mineral despatched for the mine block and is calculated as a product of mineral despatched in a month and sale price of the mineral (grade-wise and state-wise) as published by Indian Bureau of Mines for such month of despatch. It is to be noted that in accordance with the 'final price offer' shall be required to be paid monthly in addition to the payment of royalty or dead rent, as applicable.
KJS Ahluwalia was the existing lessee of Nuagoan iron ore mine block. The mine has an EC limit of 5.62 MnT pa and has exploration done upto G2 level. The mine has a total geological resource of 792.93 MnT. Its average lumps percentage is 39.1% and fines percentage is 60.89%. Production from the mines was recorded at around 5.61 MnT in FY19 and 4.4 MnT in FY20 (till Nov'19). This mine is reserved for merchant use.
How will mine auctions impact Indian iron ore demand-supply?
To learn how the mines auction 2020 unfolds, be a part of SteelMint Events' 4th Indian Iron ore, Pellet and DRI Summit which is scheduled on 2-3 March 2020, in Hotel LaLiT, New Delhi.