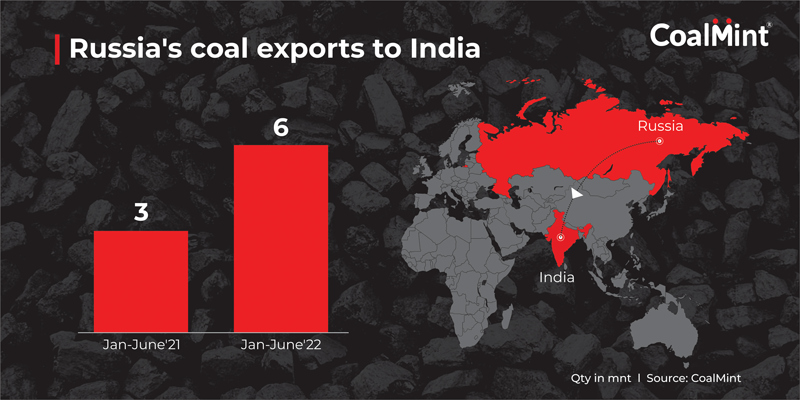 Exports to India rise to 6 mnt in first six months of 2022
Logistical hurdles may force Russian miners to cut production
Recent RBI policy to facilitate coal trade with Russia
Four months have slipped past since Russia invaded Ukraine and the NATO countries slapped sanctions on Russia, thereby directly hurting the country's export prospects. In the meantime, however, coal exports from Russia have increased manifold.
Russian coal exports totalled a whopping 108.7 million tonnes (mnt) in the first six months of the year, up 4% on a year-over-year basis, as per data gleaned by CoalMint from various sources.
Shipments to India have risen to 6 mnt in the first six months of the year, as agaisnt 3.1 mnt during Jan-June'21, CoalMint data bear out.
Russian coal exports during January-June this year have largely been indicative of a shift in global trade flows, as the loss of markets in Europe and Japan was more than offset by increased purchases by Indian and Turkish buyers.
Despite a steady decline in Russian coal exports to Europe following the sanctions, shipments to major Asian markets are seen rising going ahead as buyers bet big on high-CV coal from Russia, which comes at a discount vis-?-vis other origins.
Buyers of Russian coal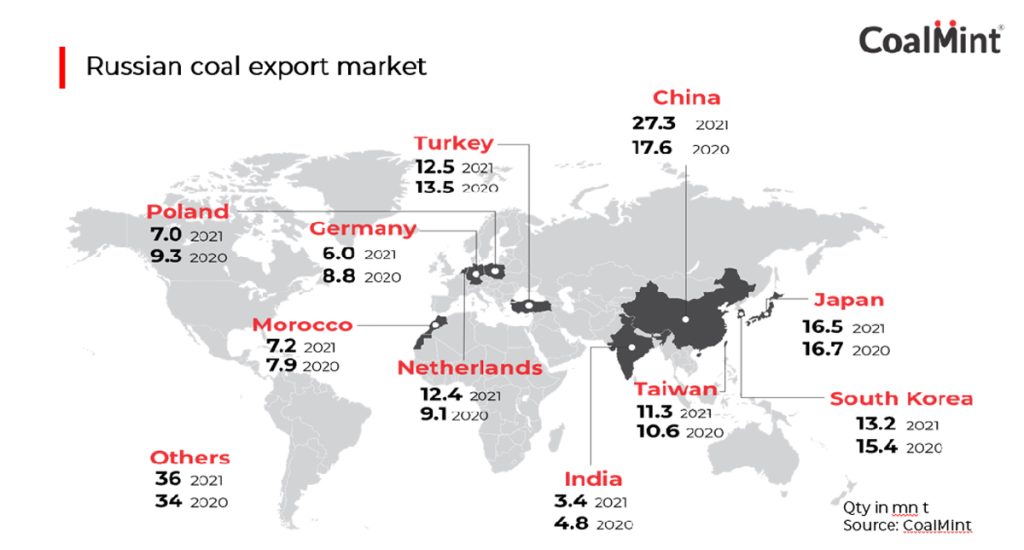 Among the major countries showing interest in Russian coal, China tops the list. Russia exported 44 mnt of coal to China in 2021, making up 21% of its total export of the fuel, customs data show.
Despite record-high coal output in China this year, Russian deliveries have increased significantly as Chinese buyers have snapped up discounted fuel ahead of anticipated strong demand in summer.
India, the world's second-leading coal importer, is also Russia's best hope in the Asian market, as the Indian government has refrained from condemning the attack on Ukraine and remains open about securing cheaper energy supplies from Russia.
Despite just a 3% share for the Indian market in 2021 from Russia's total exports, shipments to India have risen to 6 mnt during Jan-Jun'22 and continues to rise, CoalMint data bear out.
To Vietnam, Russia delivered a total of 4 mnt of coal last year; the emerging South East Asian steel powerhouse accounted for 10% of Russia's coal exports.
Turkey is also emerging as a major buyer of Russian coal going ahead, with reports of it having increased shipments from February this year.
Several small buyers such as Pakistan and Bangladesh are also inclined towards Russian coal. However, weak economic conditions and investors pulling out funds from coal projects hinder buying appetite.
New routes for exports to India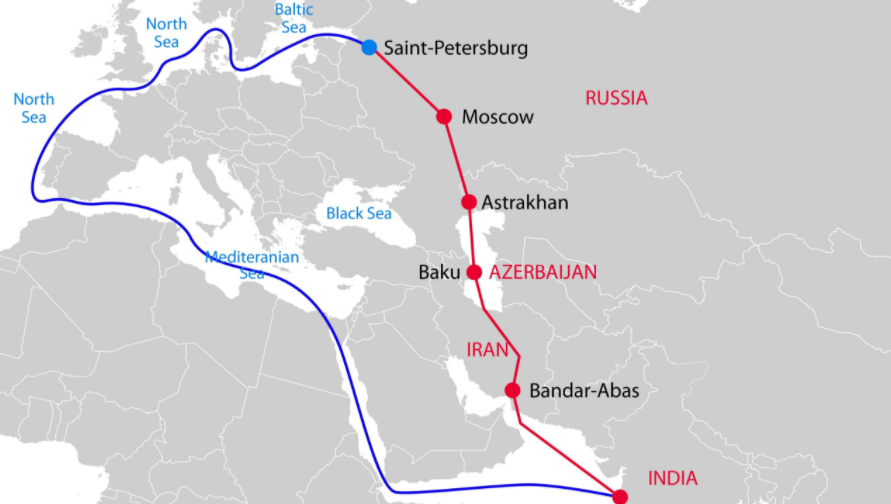 To cater to India's coal demand, Russian companies have launched regular chartered ships to India to ensure uninterrupted supply. Both countries are in talks to revive the Vladivostok-Chennai shipping corridor as part of a partnership in the Indo-Pacific region.
Russian consignments via Iran are making their way to Indian ports, following the operationalisation of the International North South Transport Corridor (INSTC). Indian authorities have urged Iran to facilitate regular use of the 7,200-km long INSTC.
Despite higher freight costs between Russia and India, coal transportation is unlikely to be a hurdle given the attractive prices, an expert informed CoalMint.
Elevated prices of traditional coal imports from South Africa and Australia are likely to make way for Russian shipments.
While the cement and power sectors prefer buying Russian coal, several other coal-consuming sectors such as the sponge iron industry in India are experimenting with Russian coal, and assessing its impact on productive volumes, the expert added.
Coal production
Coal output in Russia continues to remain strong amid resilient demand from the new markets in Asia.
As per data from Coal Center International, a Russian weekly, coal output in the country fell slightly by 0.4% on a y-o-y basis to 179 mnt during Jan-May 2022.
A major fall in output that was largely anticipated this year with the loss of markets in Europe was more than compensated by elevated global prices, wherein it was possible to offer discounts without impacting margins of Russian miners, CoalMint learnt from sources.
Large-scale safety checks at underground and open-pit mines after the explosion at Listvyazhnaya mine (SDS) led to operations being suspended at more than 20 mines since January this year.
Dispatch scenario
Coal transportation via the Russian railways, on the other hand, remains steady. However, the exodus of European investors from Russian port and rail development projects is an ominous sign.
Apart from the limited throughput capacity of the eastern range of the railways, coal suppliers are also facing difficulty in redirecting all unclaimed volumes from the north-western terminals to the far eastern ports, which may likely force a number of mining companies to cut coal production in H2 2022.
Issues with Baikal-Amur Mainline (BAM) and the TransSiberian Railway (TSR) have been a key factor hindering the growth of transshipment volumes to the far eastern ports.
Russian news agency Interfax reported recently, citing the energy ministry, that the country's coal production in 2022 could fall 17%, y-o-y, to 365.1 mnt, while exports could decrease 30% to 156 mnt.
Demand prospects in H2
Russia, the world's third-largest coal exporter, is trying to carve out a market share, as elevated coal prices delivered from other origins make Russian coal an attractive option for Asian countries confronting a supply squeeze, particularly India.
To know more about the Russian coal market and its changing course of trade dynamics for the second half of the year join us at India Coal Outlook Conference. CoalMint will be hosting the India Coal Outlook Conference on 3-4 August 2022 at The Lalit, New Delhi, to discuss the key issues pertaining to domestic coal production and supply, the government's objective of controlling imports and domestic supply gap affecting many industries, the need to increase the purchasing power of Indian steel companies in the volatile global coking coal market as well as issues related to decarbonization of the coal value chain.