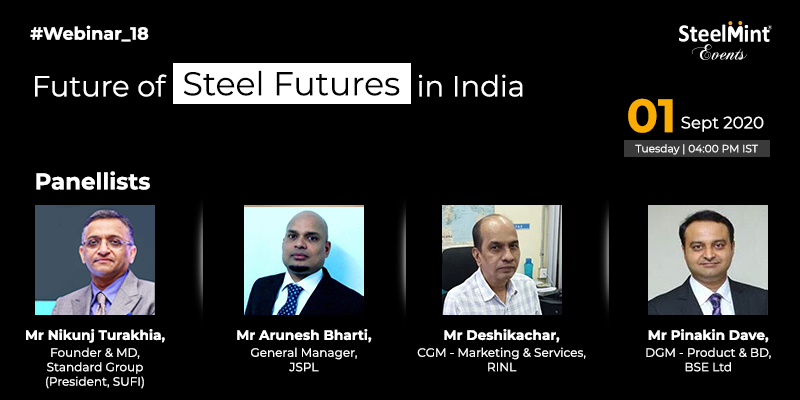 Connect with us on Tuesday, Sept 1, 2020, at 4:00 PM (IST), 6:30 PM (Singapore time), 2:30 PM (Dubai time), as we interview our panellists to understand the prospects of Steel Futures in India.
Panellists :
Mr Nikunj Turakhia, Founder & MD, Standard Group (President, SUFI)
Mr Arunesh Bharti, General Manager, JSPL
Mr Deshikachar, Chief General Manager – Marketing & Services, RINL
Mr Pinakin Dave, DGM – Product & BD, BSE Ltd

Key points of discussion:
Maturing Indian economy and the need for futures exchanges. Taking a clue from the China Futures Exchange?
BSE billet futures: Need for a price barometer – guideline for purchase managers
Futures exchange as a price hedging tool for traders. Are trade volumes likely to receive a boost in the short-term?
Is there a possibility of speculation on a futures index?
Effect of steel futures index on steel trade.