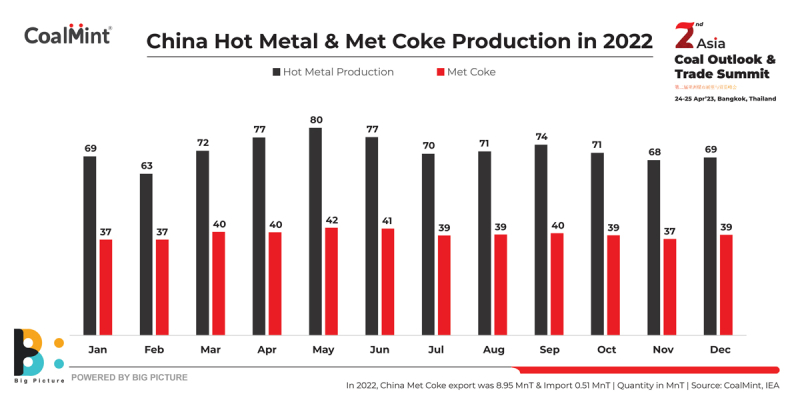 Chinese coke plants are trying to increase prices of their products by cutting down production, as per recent reports. Chinese coke chemical companies plan to cut production by 30% to raise coke prices. This proposal was discussed at a recent meeting held by the market committee of the China Coke Industry Association.
Higher supplies impact prices  
According to data from Shanghai Metals Market (SMM), in December 2022 China had increased coke production by 8.3% y-o-y – up to 39 million tonnes (mnt).
After the Chinese New Year (CNY) holidays, many local governments issued policies to promote economic growth and the real estate market continued to benefit, fuelling market optimism. However, high inventories of finished steel at mills and muted recovery of end demand weighed on the coke market.
On the supply side, however, surveys showed that only a few coking companies had reduced production during the CNY holidays, which had little impact on overall supply. The capacity utilisation rate of coke ovens was basically flat compared with pre-CNY level.  Therefore, production cut has become necessary to boost prices.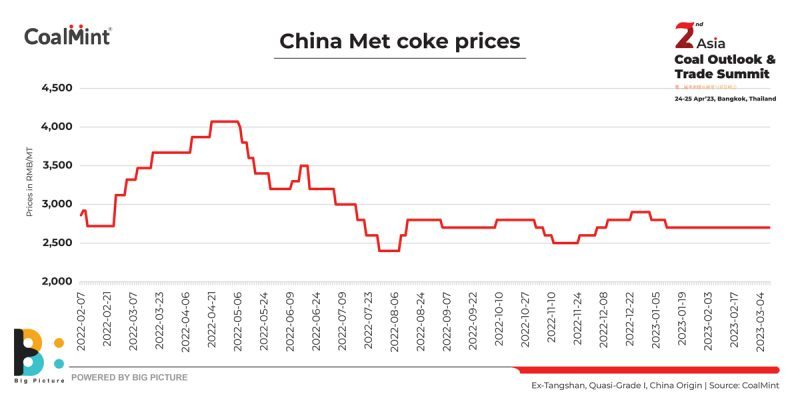 Plants announce hikes  
Coke producers will extend coking periods to reduce capacity utilisation, reduce or stop purchases of expensive coking coal to cut production costs. Coke chemical enterprises will give priority to those customers who agree to increase coke prices.
In particular, Shanxi Coking Coal Group in Shanxi province as well as Inner Mongolia-based Yangdong Coal and Chemical Group announced coke price hikes from 7 March, 2023. Shanxi Coking expects further growth amid increased loading of production capacities in the steel industry.
Ban on Australian coal lifted 
Resumption of coking coal exports from Australia in the first week of February has weighed on domestic coal and coke prices. The Chinese government has now lifted the unofficial ban on Australian coal for all companies compared with just four State-owned companies previously.
Although cargoes have started arriving on Chinese shores, sources informed CoalMint that stiff Australian coal prices will find few takers in China at the moment, especially when supplies from Mongolia and Russia are stable. However, China's imports of high-energy Newcastle coal could be supportive for thermal coal prices and, in turn, keep met coal prices supported.
Mongolia shifts to auctions 
The Mongolian government is moving to an auction system for coal sales that will replace the long-term contracts favoured by Chinese buyers and impose additional transport costs on customers. China has sought to expand its coal trade with Mongolia in recent years, particularly after halting shipments from Australia. However, investments in infrastructure, particularly railway infrastructure, are expected to reduce logistics costs in the coming years.
The Mongolian government is planning to sell 12 mnt via auctions by July this year. The government intends to use auctions for all its coal sales – including the coking variety for steel mills and thermal coal for power plants – in 2024 and 2025. The full-scale impact of this move by the Mongolian government on China's coal and coke markets will unfold in the coming time.
Outlook  
China's steel output is set to rise in the coming months, helped by a seasonal upturn in construction activity, although excess steel stocks will limit the ramp-up in production. Notably, the Chinese government has reviewed import duties on coking and thermal coal to support domestic producers. From 1 April, the import duty on coking coal will be 3%, and for thermal coal 6%.
At the same time, zero import duty on coke will be maintained this year. So, coke imports to China may increase this year amid rising production in Indonesia and other countries of South East Asia.
2nd Coal Outlook & Trade Summit  
How will the met coke and coking coal scenario evolve in China in 2023 and beyond? What is the outlook on the anticipated increase in met coke exports by Indonesia on the back of rising capacities in that country? Will exports to China rise significantly? How might this affect domestic prices of met coke in China in 2023 amid constrained crude steel production?
Find answers to these and other queries at CoalMint's 2nd Asia Coal Outlook & Trade Summit in Bangkok on April 24-25, 2023, where Mr. Yang Lu, General Manager and Executive Director, China Risun Group, will share his insights.