Indonesia, the world's largest coal exporter with a global share of around 45%, is on the verge of becoming a major supplier of metallurgical (met) coke thanks to hefty investments by Chinese companies. As per CoalMint estimates, over 17 million tonnes (mnt) of coke production capacity is coming onstream in Indonesia, which will play a key role in feeding the growing steelmaking needs of the region.
Indonesian coal is mainly thermal or steam coal, and availability of metallurgical (coking) coal is limited due to the resources being located in remote hinterlands of the country which are largely unexplored. Only a part of the thermal coal production is consumed domestically – mainly for power generation – while the major portion is shipped abroad.
Indonesia's Energy and Mineral Resources Ministry has projected that 695 million tonnes (mnt) of coal will be produced in 2023 out of which around 518 mnt will be exported.
Steel scenario
The coking coal produced in Indonesia is consumed in small-scale coke plants for use in steelmaking but the domestic ironmaking industry in Indonesia is still underdeveloped. South Kalimantan has estimated iron ore resources of around 500 mnt. The plan for development of the iron and steel industry in South Kalimantan is an effort at securing independence of a national strategic industry based on local raw materials.
Indonesia's steel production, less than 15 mnt, is higher than domestic demand, which stood at around 8-9 mnt in 2021, as per SEAISI estimates. The rest was exported.
The downstream construction and automobile industries in Indonesia are heavily reliant on imports of carbon steel, which is why the average domestic steel mill capacity utilisation has remained roughly at around 45-50% over the last decade or more. Indonesia imports steel majorly from China, Japan and South Korea.
The Indonesian government is seeking to liberalise laws around scrap steel imports into the country to boost domestic billet production in order to feed the steel-using downstream sectors and restrict imports.
However, with the shifting of the country's capital, steel demand is expected to receive a boost over and above the general growth premised on infrastructure and construction as part of the progression towards higher levels of urbanisation.
PT Krakatau Steel along with POSCO, PT Gunung Raja Paksi and Dexin Steel have set up, and are expanding, blast furnace steelmaking capacities in the country which will require higher volumes of met coke.
Global met coke dynamics
In 2022, around 569 mnt of met coke was consumed by steel mills across the globe in 2022, as per data available with CoalMint. While a total of 1,885 mnt of steel was produced worldwide, production of hot metal through the blast furnace route stood at around 1,338 mnt, as per estimates. Most of the coke was used in captive steel production, with only around 30 mnt traded in the global market.
China was the major exporter at over 8 mnt. Strict environmental norms in China have already had a significant impact on the oversupplied coke market. Moreover, environmental regulations have also impacted coking coal mining. Coke-making operations have come under official scrutiny and so investments have flown towards Indonesia, although there are import tariffs for coke in China even as coke-making capacity in Indonesia gathers pace.
Why is China investing in Indonesia?
Indonesia is ramping up its met coke capacity. China being the world's largest steel consumer is heavily dependent on met coke to support the higher generation of liquid steel through the primary route. Over 80% of Chinese crude steel production is still through the oxygen route. Chinese investors have identified Indonesia as an ideal site for setting met coke plants which would be helpful in catering to their surplus requirement.
Currently, five mega coke plants with a cumulative capacity of 17.5 mnt are in the pipeline. Amongst these, the biggest facility is coming up under Nanjing Steel comprising two sets of plants with a capacity of 6.5 mnt/year.
Tsingshan Group is a shareholder in all these proposed projects, while China's Delong Steel Group is funding two of these projects.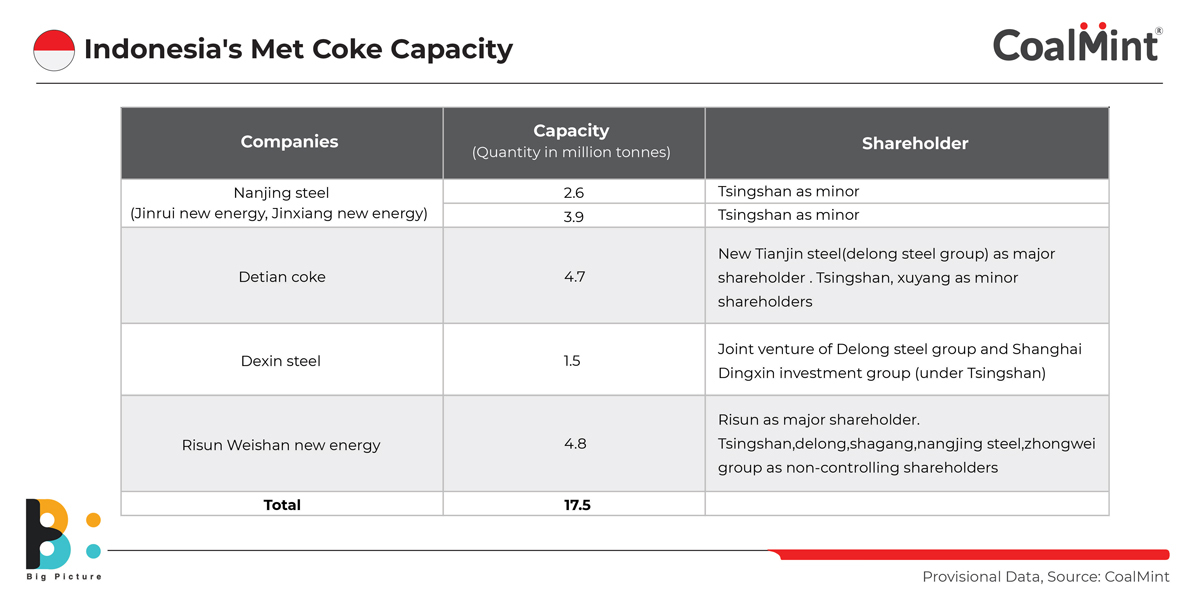 Implications
Since Indonesia has limited demand for steel, the surplus met coke produced would be shipped to India, China and other global markets. Indonesian companies will also gain the opportunity of fetching higher prices from coke sale compared with standard steam coal grades.
Current capacity in ASEAN is about 71.8 mnt, as per SEAISI. The new capacities that the Institute has tracked are roughly about 90.8 mnt. With all these capacities coming in, total steel capacity in the ASEAN (Vietnam, Thailand, Singapore, Philippines, Malaysia and Indonesia) will rise to 162.6 mnt sometime towards 2030, SEAISI informed in November last year. Actually overcapacity stems from rapid capacity expansion in Indonesia, Vietnam and Malaysia.
Increasing Indonesian met coke capacity is expected to be geared towards meeting this huge demand as most of the new steelmaking capacities to come onstream will be based on the integrated BF-BOF route.
The evolution of global climate policy is unmistakably towards clean energy sources and thermal coal's long-term outlook is obviously dismal. The opportunity to diversify exports, especially of high-calorific value coal as well as coke, will naturally channelise the energies of Indonesian coal exporting companies.
2nd Asia Coal Outlook & Trade Summit
As Indonesia comes up with coke plants in a big way will global met coke market dynamics be impacted? Keen to know more? Book your seat at CoalMint's 2nd Asia Coal Outlook & Trade Summit in Bangkok, Thailand, on 24-25 April, 2023.