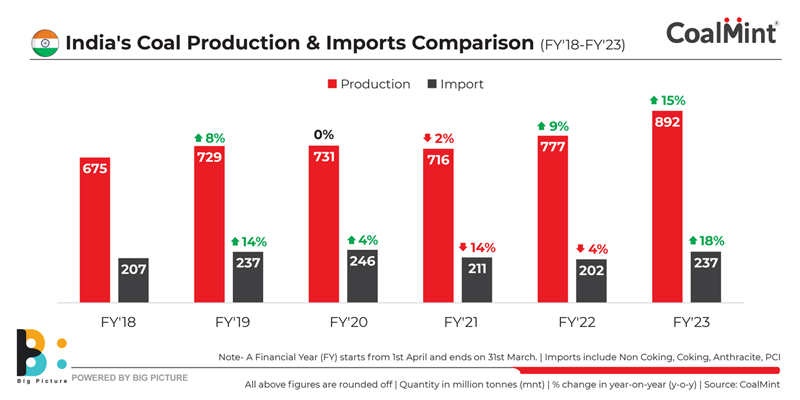 Govt mandates imports to meet peak power demand
Shipments from Indonesia, Russia increase sharply
Imports likely to remain high in Q1FY24
India's coal imports increased sharply by around 18% y-o-y to over 237 million tonnes (mnt) in financial year 2022-2023 (FY23) from 202 mnt in FY22, data maintained with CoalMint reveals.
Interestingly, imports surged despite record domestic coal production in FY23. The country recorded historic growth in its coal output at 892.21 mnt in FY23, Union Coal Minister Pralhad Joshi informed recently. Total coal production was 15% higher from 777 mnt in FY22.
Out of total import shipments in the recently concluded fiscal, those of non-coking or thermal coal stood at over 166 mnt, which is roughly 70% of total imports. Non-coking coal imports edged up by 23% y-o-y on higher demand from power producers and with the government mandating imports to meet peak power demand.
On the other hand, total imports in FY23 of coking coal and PCI coal stood at over 69 mnt compared with 65 mnt in FY22. While hard coking coal imports increased by just around 3% y-o-y, imports of PCI coal for usage mainly in blast furnace steelmaking rose sharply by 22% on the year.
Why imports increased?
*High power demand: Government data shows India's power consumption surged 10% to 1,375.57 billion units (BU) during the April-February period in FY23, thereby already surpassing the level of electricity supplied in FY22.
Power consumption in April-February of FY22 stood at 1,245.54 BU. In FY22, power consumption was 1374.02 BU, which is less than 1,375.57 BU recorded during the April 2022- February 2023 period. So, the imported coal-based power plants had to raise imports.
*Govt mandates imports: To ensure adequate power availability, the Ministry of Power (MoP) has instructed power plants to import 6% (by weight) of their coal needs for blending purposes till September, 2023. A similar mandate had been issued last year too. That time, the blending ratio was kept at 10%. As a result, India's State-owned power producers as well as major miners raised coal imports till June-July 2022 although shipments fell post September as peak summer demand subsided along with monsoon-related logistical disruptions.
This year, too, the government has asked the imported coal-based (ICB) power plants to carry on operations at full capacity. In addition, a tender has been floated to procure electricity from ICB plants for April-May when power availability is expected to be less than demand.
*Steel production rises: India's steel production edged up to nearly 125 mnt in FY23, as per government data, from around 118 mnt in FY22, an increase of 6% on the year. In the absence of quality domestic coking coal reserves, imports naturally increased. Besides diversifying import sources amid historic-high coking coal prices, Indian steelmakers also ramped up usage of PCI coal to increase furnace efficiency even while reducing the usage of costly metallurgical coke. This saw volumes from Russia increasing sharply y-o-y.
Trade flows
The top exporter to India was Indonesia, with total shipments standing at 112 mnt -up 55% on the year. Indonesia is the world's largest seaborne exporter of coal, accounting for 32.3% of the global seaborne coal market in 2022. The country has set an export target of over 500 mnt of coal in 2023. India purchases mainly high-to-low-CV non-coking coal from Indonesia.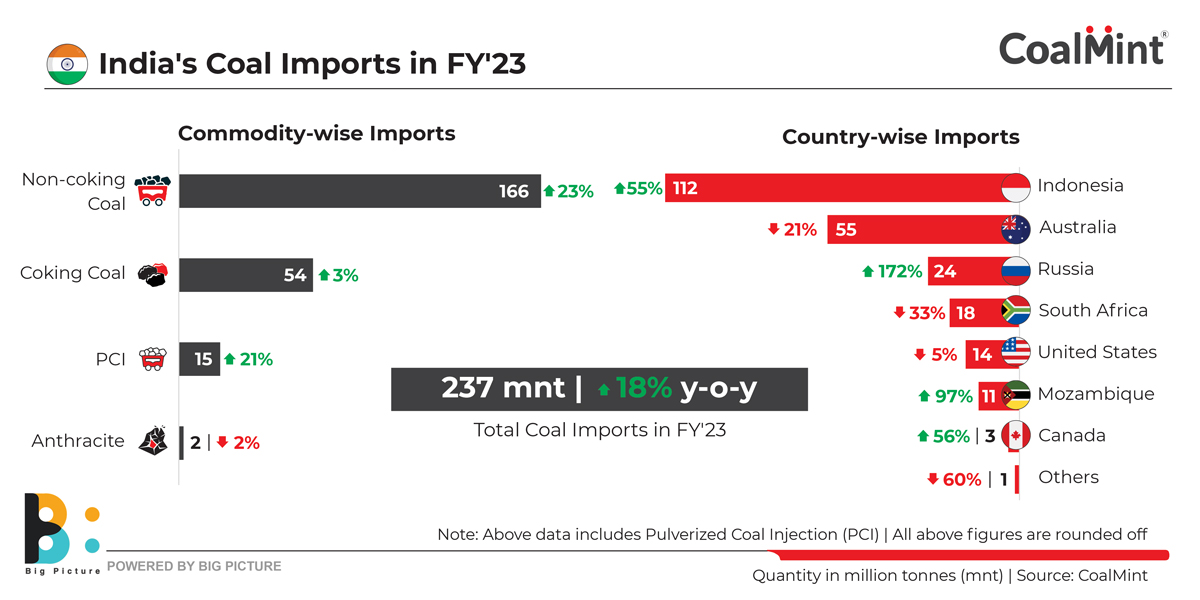 With the rise in Russian supplies, it is expected that only low-CV Indonesian coal will henceforth be attractive for Indian buyers, said a miner source based in Indonesia. After persistent pandemic disruptions and temporary export bans, Indonesian exports surged in FY23.
Imports from Australia, however, fell by over 20% to around 55 mnt, out of which over 36 mnt was coking coal. Even coking coal imports from Australia dropped 13% on the year as a result of India's efforts to diversify coking coal sourcing amid record-high global prices following the outbreak of the Russia-Ukraine war in February last year.
Similarly, India increased its met coal imports from the US and Canada sharply to around 10 mnt from less than 5 mnt in FY22. Marked growth in Canadian coal production and easing of disruptions in key US coal terminals supported higher shipments.
Notably, imports from Russia surged by over 170% on-year as the country stepped up shipments of cheaper cargoes to Asian consumers to amid sanctions imposed by the EU and US as well as G7 allies. Imports from South Africa, on the other hand, decreased by 33% as Mozambican and Russian exports to India surged. Imports from Mozambique rose by 97% y-o-y to nearly 11 mnt in FY23, with Indian DRI producers ramping up sourcing due to record-high South African coal prices amid global energy inflation.
However, with subsequent correction in global coal prices, trade flows seem to be returning to settled patterns.
Outlook
Experts say power consumption is expected to grow in double digits in the coming months in view of forecasts of unprecedented high demand, especially in summer. The power ministry has estimated peak power demand in the country at 229 GW during April this year, which is higher than 215.88 GW recorded in the same month a year ago.
Following the government's mandate, NTPC, India's largest power producer, has decided to import around 5.4 mnt of coal during the first half of FY24. So, imports are expected to remain high through till July-August this year.
Interestingly, India's coal imports have returned to the pre-Covid levels of around 240 mnt seen in FY19 and FY20.
Despite the government's aim of augmenting domestic washery capacity and achieving coking coal production of 140 mnt by FY30, imports are likely to grow parallelly with India's fast-expanding steelmaking capacity. Imports are projected to reach 75-80 mnt by 2025-2026.
Logistical bottlenecks and high freight rates have increased dependency on imports by impeding pit to plant coal transport. Total coal loading by the Indian Railways in FY23 increased by over 11% to 653.36 mnt and total freight earned rose by 22% y-o-y. The allocation of more rakes, special lines and dedicated freight corridors for coal transportation and rationalization of freight rates are expected to increase domestic availability of coal.
2nd Asia Coal Outlook & Trade Summit
There has been no let-up in India's coal imports of late and 2023 may be another year likely to witness sustained growth. How is the government planning to rein in imports by 2025-26? To follow the discussion, book your seat at CoalMint's 2nd Asia Coal Outlook & Trade Summit in Bangkok, Thailand, on 24-25 April, 2023.