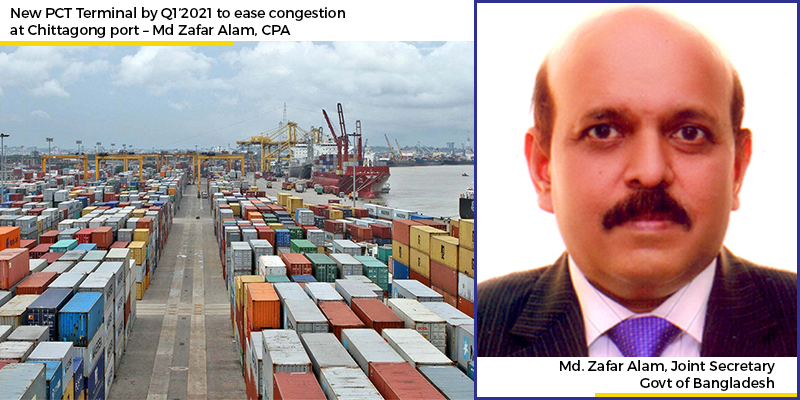 Md. Zafar Alam, Jt Secretary, Govt of Bangladesh, is Member (Admin and Planning) at the Chittagong Port Authority.
In a recent interview to SteelMint, Mr Alam revealed about the expansion plans of Chittagong port to ease imports by steel and various other industries, development of new ports to share burden and role of private players in the port development sector in the coming years.
Q1 How well equipped has Chittagong port emerged, to handle imports via containers and Bulk cargo, given that numerous steelmakers in the country import scrap through containers?
A1 Chittagong port started its journey as cargo port. In the mid-seventies of last century, it started to transform into a container port by converting some cargo berths for container operation. Now at Chittagong port Authority (CPA) there are only six berths for cargo operation. Alternatively, CPA used its outer anchorage to discharge cargo through lighterage vessels. These lighter vessels move throughout the country by inland waterways.
Q2 What are the steps being taken by authorities to ease out the prevailing port congestion at Chittagong, considering its importance for raw material imports for steel mills?
A2 Chittagong port has taken some projects to develop its cargo and container handling facilities. Among them are, 3 new jetties at Patanga Container Terminal (PCT), 1.2 km long cargo Terminal in Bay Terminal area.
Moreover, after the commissioning of PCT in the first quarter of 2021, it will spare at least two GCB berths for cargo handling, increasing capacity of Chittagong Port after adding bay terminal. Government has also taken a project to develop cargo and container Port at Matabari and Payra, and these two ports will support the industries dependent on imported raw materials.
Q3 Is it true that Rice and other food related commodities are given preference for unloading at port, keeping scrap importers waiting longer and paying higher demurrage charges?
A3 In fact in the existing 6 cargo berths of GCB follows a priority rule and that runs as follows:
a) For food item- 1 berth
b) Cement – 1 berth
c) GI cargo/ Steel Scrap – 2 berth.
d) RoRo vessel- 1 berth
e) National flag carrier- 1 berth
Moreover CPA allocated 3 lighter jetties to the steel mills for handling steel scrap from lighter vessels. CPA is developing at least 10 more lighter jetties to support the raw material import dependent industries.
Q4 Will the new port, Payra port be utilized for scrap and raw material imports, or is it earmarked for other commodities?
A4 Yes, Payra port will develop for both container as well as cargo handling purposes.
Q5 Can you put some light on the govt's plan of action to expand the Chittagong port's capacities as well as newer port developments in the coming time? 
A5 In 2019 Chittagong port handled around 100 million metric tons of cargo and 3.1 million TEUs of containers. Economic development of Bangladesh requires the development of ports. And government has taken initiative to develop Payra port in the middle region of Bangladesh and Matabari port in the south east region of Bangladesh. These ports along with Bay terminal and existing Chittagong Port will support the growing demand of the industries in Bangladesh. These expansion projects include:
a) Construction of Patanga Container Terminal(PCT)
b) Construction of Bay Terminal
c) Expansion of yard facilities of Chittagong Port
d) Construction of 10 more lighter jetties for the raw materials and cargo
e) Newmooring Overflow yard; and
f) introducing ICT based Port community System.
I am very much optimistic with these development and expansion of Chittagong port could ease the movement of ships, containers and cargo including scrap raw material for the steel industry. Chattogram port has carried out a study about the possibility of setting up lighter jetties around sitakunda to support nearby steel industries.
We are at the end of the implementation of the seventh five-year plan and we will enter into the eighth five-year plan in the next year, 2021. These will have provisions for private sector involvement in the port development. Private sector can come forward and establish port facilities for the smooth movement of the cargo and container.
Mr Zafar Alam is one of the prominent speakers at SteelMint's 3rd Steel and Raw materials conference, Chittagong on 23rd-24th March' 20, where he will be addressing the concerns about the port congestion issues impacting raw material imports to Bangladesh and the correct solutions for the same.