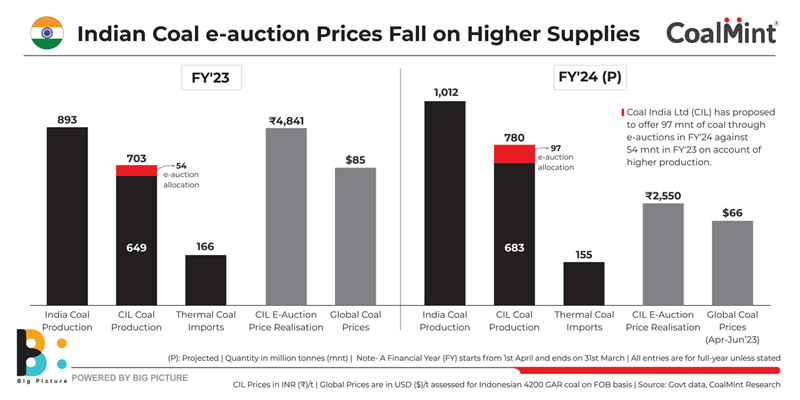 State-run miner Coal India Ltd (CIL) has floated a calendar outlining the proposed coal volume to be offered under e-auctions during FY'24. The company is planning to sell 97.43 million tonnes (mnt) of coal, which is around 81% higher than 53.91 mnt offered last year of which 52.88 mnt was booked.
As per policy guidelines, CIL earmarks 10% of its annual production for sale via regular e-auctions based on competitive bidding, whereas the majority of the sale is carried out via fixed price contracts under fuel supply agreements (FSA).
However, the company has been skewing this norm by regulating the coal offering based upon availability. This year, it has allocated a higher volume for e-auction than the actual norm, based on the projected production of 780 mnt, in view of supply-side improvements.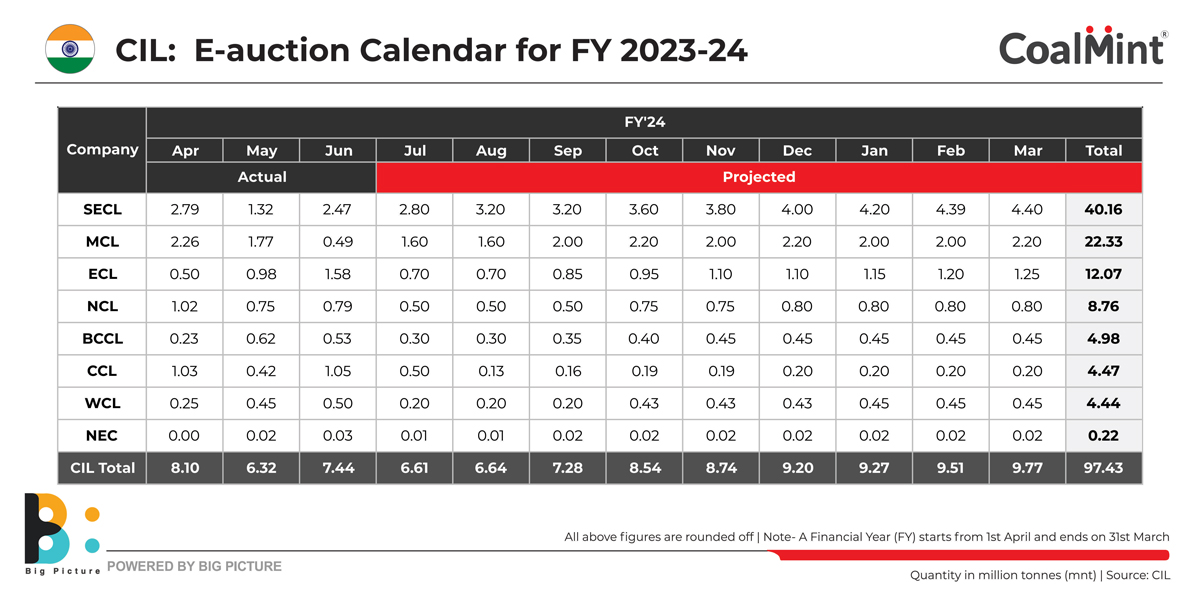 The auction calendar highlights that CIL has already offered 21.86 mnt of coal in the first quarter (April-June'23) registering an exponential growth of 115% compared to the year-ago period. The remaining 75.56 mnt will be sold in phases during the final nine months.
There was also indication of reduced offerings in July-August against June levels on account of expected supply disruption during monsoon. From then on the offered quantity rises progressively on a monthly basis in tandem with the increase in production, with total tonnage peaking in March.
Production to breach 1 bnt-mark
The government has set a coal production target of 1,012 mnt in FY'24. Of this, CIL's share has been fixed at 780 mnt, while Singareni Collieries Company Ltd. (SCCL) is expected to contribute 80 mnt. The remaining volume of 162 mnt is expected to come from captive and commercial miners.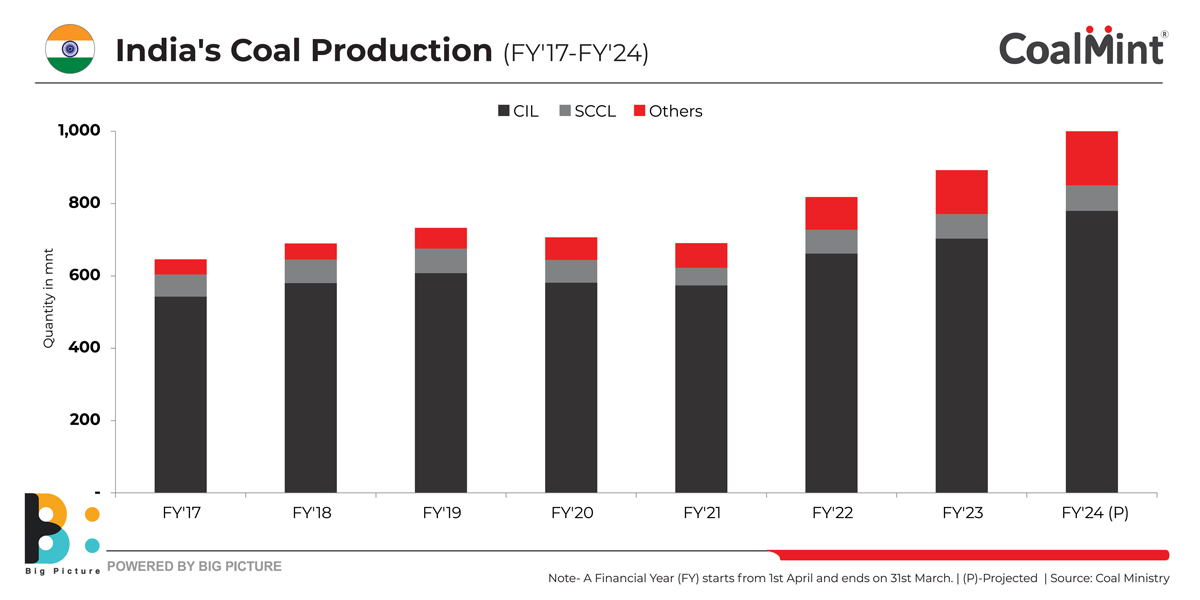 In particular, CIL has set sights on creating a new production milestone by surpassing the previous high of 703 mnt attained last fiscal.
In Q1FY'24, CIL's production jumped 10% y-o-y to 175.5 mnt, which is the highest ever production recorded during Q1 of any fiscal year. Dispatches increased 5% y-o-y to 187 mnt in Q1, which was around 7% higher y-o-y.
The performance trend indicating sharper production growth relative to dispatches has reduced inventory liquidation at mine level. This has helped the miner to accumulate sufficient inventory and also provide a leeway to increase e-auction volumes.
Besides, substantial growth in contribution from captive and commercial miners also provides new avenues for buyers thereby augmenting domestic availability.
Recovery in global supplies
In the aftermath of the Russia-Ukraine war when disruption in trade flows had triggered an unprecedented surge in coal prices, the Indian government was forced to take necessary measures to ensure fuel security at power plants.
This also forced CIL to curtail its offerings via e-auctions and resort to diverting the additional tonnage meant for sale in order to increase supplies to power plants.
However, as global supply pressure eases, there is adequate material availability for the imported coal-based plants which has also gradually reduced the pressure on domestic coal-based power plants.
Subdued coal-fired power generation
On the demand side, nominal growth in coal-based power generation owing to favourable weather conditions has also reduced the burden on domestic miners.
As per data provided by the Ministry of Power (MoP), coal-based power generation grew 2% y-o-y to 315.3 billion units (BU) in Q1FY'24 against 308 BU in Q1FY'23. Last year, the growth in generation volume at this juncture was around 20%.
Rising stockpiles
While, CIL has accumulated sufficient inventory at mine pit-heads, the power plants have also shown encouraging signs with regard to inventory build-up aided by higher supplies and subdued generation.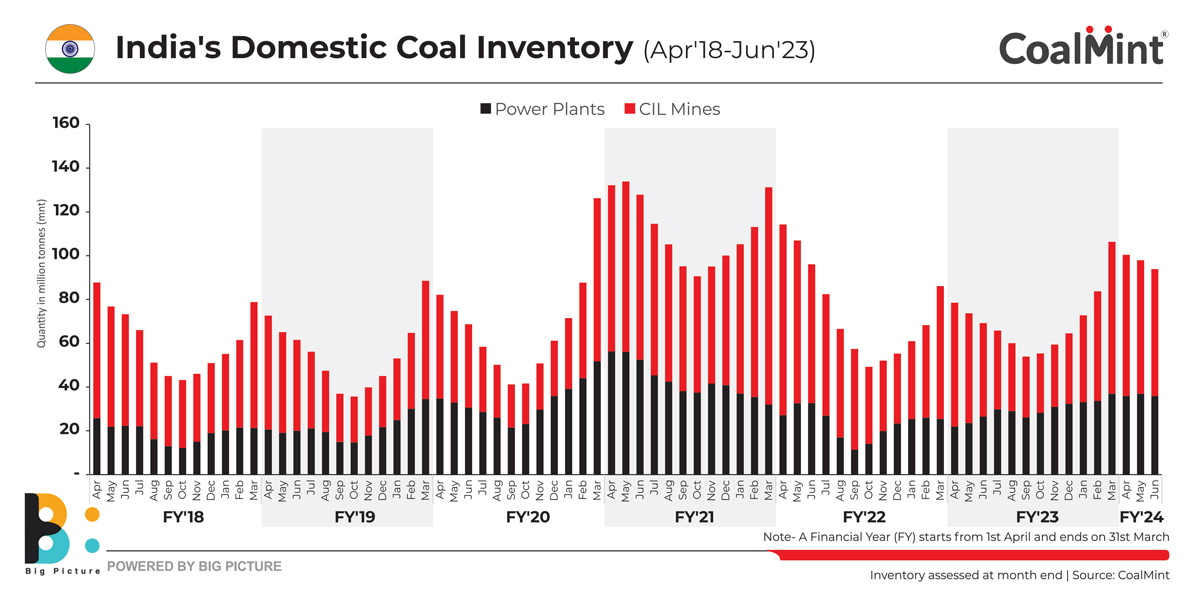 Coal inventory at power stations was assessed at 35.88 mnt towards the end of June, which is sufficient for 13 days of power generation. Besides, the number of plants having a critical stock position has reduced to 61 currently from 87 in the year-ago period.
In all, combined inventory at CIL's mines and power plants has increased to 93.9 mnt in June, up 36% y-o-y.
Outlook
The uptick in e-auction volumes is expected to push coal prices lower which are already reeling under the impact of improvement in supplies both at the domestic and global levels.
CIL's price realisation for e-auction sales has dropped nearly 40% to INR 2,950/t in the June quarter from INR 4,841/t recorded in FY'23. Prices are expected to inch down to INR 2,550/t in full-year FY'24.
There seems to be minimal impact on imports from increased e-auction sales as Indian buyers are reaping benefits of ample material availability at cheaper prices. Presently, thermal coal imports on a monthly basis are assessed at around 16-17 mnt in Q1FY'24 against the average of 14 mnt in FY'23.
However, in a scenario where there is not much improvement in demand, lower e-auction prices may reduce imports which are expected to drop to 155 mnt in FY'24 from 166 mnt in FY'23.
3rd India Coal Outlook Conference
How will CIL's altered auction dynamics affect domestic buyers? Supplies to the non-regulated sector rose 34% in FY'23 –will the trend continue in FY'24? To hear experts deliberate on these topics and much more, register for SteelMint Events' 3rd India Coal Outlook Conference to be held at JW Marriott, Kolkata, from 24-26 August, 2023.