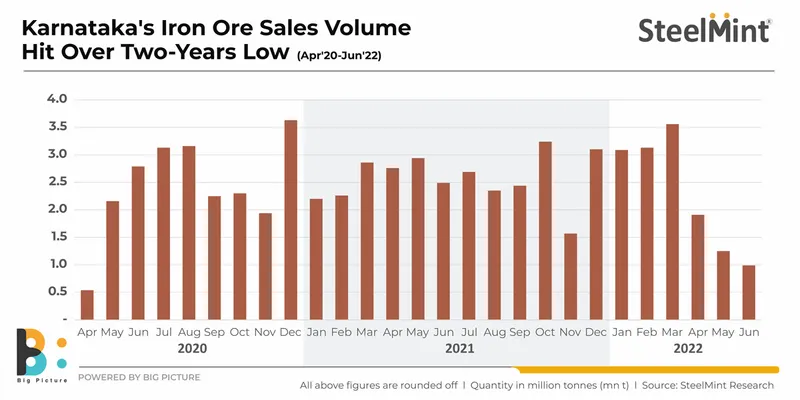 Iron ore sales in Karnataka dropped to their lowest level in over two years to a little under 1 million tonne (mnt) in June 2022 due largely to the confusion surrounding sales and dispatches following the Supreme Court's verdict in late May that lifted curbs on exports as well as restrictions on sales of iron ore that had been in place for over a decade.
Sales drop sharply
SteelMint provisional data reveal that sales plummeted to just under 1 mnt in June – a drop of over 20% from 1.25 mnt in May. Compared to April, moreover, sales at auctions edged lower by nearly 50%.
State-controlled NMDC was the leading seller at auctions in June with a share of roughly 75% of the total volumes sold, followed by Vedanta at around 12% and the Karnataka State Mineral Corporation Ltd. (KSMCL) at 11%.
It needs to be mentioned that NMDC's sales from the Donimalai mine comprised around 55% of total sales in Karnataka auctions in May, while the Kumaraswamy mine accounted for roughly 20% of total sales.
While a majority of miners chose the tried-and-tested MSTC platform for auctions, a few others resorted to direct contract/spot sales of iron ore. However, the volume of direct sales was assessed at roughly less than 1/10th of sales via auctions.
JSW Steel was the leading buyer accounting for a lion's share of 55% of total sales in e-auctions, followed by BMM Ispat at 7%. Kalyani Steel Ltd. and Mukand Ltd. had a share of 5% each in total sales.
Uncertainty grips market
The Supreme Court on 20 May lifted curbs on exports of iron ore from Karnataka and eased all restrictions on sales from the districts of Bellary, Chitradurga and Tumkur where mining activity had been prohibited following environmental violations in 2011.
Setting aside its 2011 order of direct disposal of the accumulated iron ore through the process of e-auction conducted by the Central Enforcing Agency (CEC)-appointed Monitoring Committee, the apex court ruled that direct contract sales and/or spot sales would henceforth be allowed.
However, despite the court order, and prior to the issuance of the interim guidelines by the state government, market participants were unsure of the modalities of iron ore evacuation and dispatch, which resulted in a deadlock situation where the mineral for which confirmed orders had been received and advance payments made was not allowed to be lifted for want of requisite permission from the state government.
SteelMint reported that Vedanta, NMDC and KSMCL had conducted auctions via MSTC post the SC order, while a few private miners had commenced direct sales. However, volumes remained low as well as buying interest in auctions – partly due to the prevailing gloomy steel outlook and, in some measure, because of the relatively lower grades being offered.
The apex court had lifted the five-year-old ceiling on production from 30 mnt to 35 mnt for A and B category mines in 2018. So, there is still a cap on total production in the state, although subject to judicial review.
Amidst iron ore shortage, pellet prices in Bellary remain supported compared to other regions in central and eastern India. Iron ore pellet (Fe 63%) prices in Bellary moved up to INR 9,800/t exw as assessed on 08 July as against INR 9,400/t on 5 July, as per SteelMint assessment. Prices have hit over a month-high since end-May'22.
Outlook
The Karnataka government has issued guidelines that allow miners now both to sell iron ore through direct contracts/spot sales as well as e-commerce platforms such as MSTC. Further guidelines on disposal of old stocks mined prior to 2011 and stocks at expired leases and cancelled stockyards will be issued shortly.
Therefore, clarity regarding dispatches of old stocks as well as freshly-mined ore is slowly emerging that is likely to lift the uncertainty that affected production and sales in Karnataka. Also, amidst rising pellet prices, interest in iron ore auctions has seen a gradual recovery of late.
Therefore, SteelMint expects sales in the state to witness steady growth in July.
Join us in our event, to know more about Karnataka iron ore production & demand outlook
SteelMint Events will be hosting the 5th Indian Iron Ore & Pellet Summit on 3-4 August, 2022 at The Lalit, New Delhi. The conference will discuss key issues being faced by the iron ore and pellets industry in India. The focus will be on market dynamics, policy-related changes, growth challenges and enablers, sustainability and decarbonisation goals, the way forward and many more talk points.