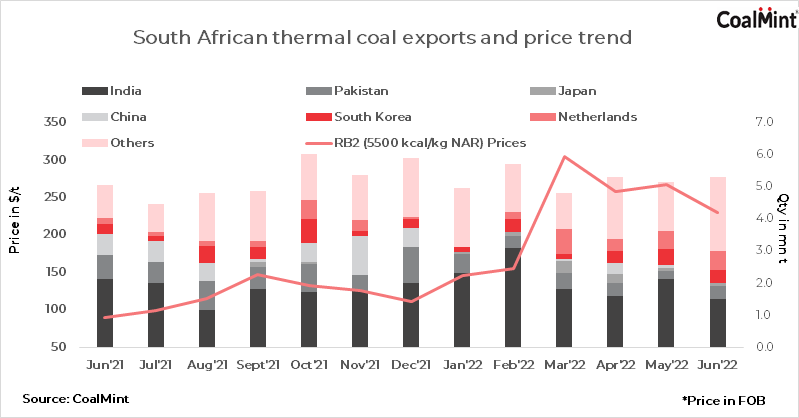 South African thermal coal exports to India have recorded a steep decline of 30% m-o-m to 1.5 mnt in June, CoalMint vessel line-up data revealed.
This fall in exports came as the demand from its top consuming sector, sponge iron had turned sluggish after the Indian government announced its decision to impose a hike in export duty on steel in the last week of May.
While this decision has come with an intention to curb inflationary pressure in the domestic market, the same has made Indian steel less competitive in the export market.
The domestic sponge iron prices in India, since then have eased by INR 3,000/t and again recovered and are currently assessed at INR 33,300/t exw-Raipur.
The country's overall thermal coal exports, however, rose marginally by 2% m-o-m to 5.3 mnt last month as increased demand from Europe offset lower exports to the Asian market.
Shipments to the European market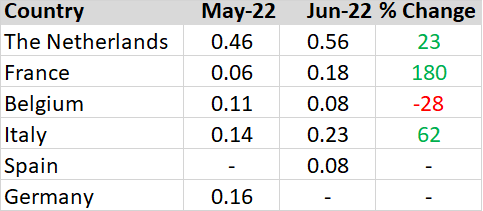 *Qty in mnt
With the approaching deadline for Russian sanctions to come into effect on Aug 10, European countries have increased their usage of thermal coal wherein South Africa forms a major destination for imports.
Shipments from the country to Europe have seen a significant rise as exports to The Netherlands have risen by 23%, while that to France by a whopping 180%.
Shipments to the Asian markets
*Qty in mnt
South African coal exports to most Asian markets have remained under pressure over its elevated coal prices.
Shipments to South Korea fell sharply by 28% last month, while there were no exports to China last month. The strong demand for Russian coal in the Chinese market has led to the decline in imports from other origins.
Exports to Pakistan recorded a slight rise of 5%. However, a major rise was capped as its local industry focused on importing coal from its neighboring country, Afghanistan.
Shipments to Taiwan, however, rose by 12% due to their rising demand for coal following Russian sanctions.
Short-term outlook
Low-CV (4800 nar) South African coal demand has emerged strongly in the Indian market owing to its competitive prices over mid-to-high CV grades (5500 NAR) that may result in increased vessel arrival in the country in July.
European demand, on the other hand, remains strong as several countries within the bloc including Germany, Austria, and The Netherlands have announced their plans to increase their coal usage for power generation. This may lead to an increase in South African total coal exports in the near-term.
To know more about South African coal demand in India and its overall coal export trajecotry for the second half of the year join us at India Coal Outlook Conference. CoalMint will be hosting the India Coal Outlook Conference on 3-4 August 2022 at The Lalit, New Delhi, to discuss the key issues pertaining to domestic coal production and supply, the government's objective of controlling imports and domestic supply gap affecting many industries, the need to increase the purchasing power of Indian steel companies in the volatile global coking coal market as well as issues related to decarbonization of the coal value chain.