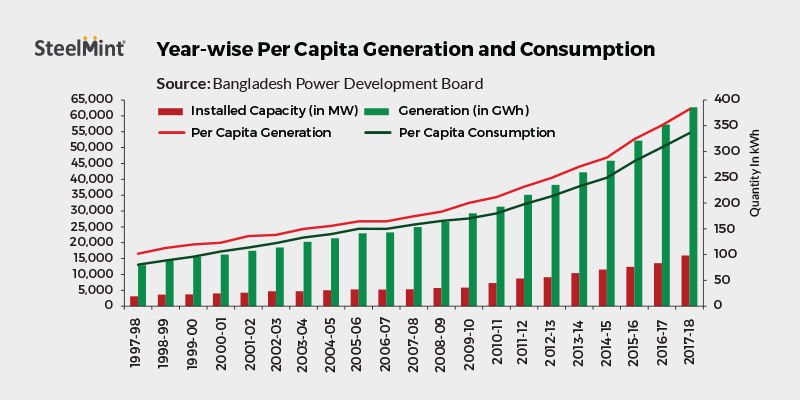 In order to mitigate the demand-supply gap, Bangladesh has planned a massive expansion in power sector to cater its rising electricity demand. The road-map prepared by the government envisage around 17,304 MW new generation capacity addition by 2023.
Incidentally, power sector is one of the booming sectors in the country, wherein largest energy consumers are residential sector, followed by industries, commercial and agricultural sectors.
Out of the total capacity addition, 9,393 MW power units would be installed under public sector, followed by another 6,075 MW in private sector power plants, as depicted under the revised expansion plan updated in Jul'19. Remaining 1,836 MW would be catered by imports.
For a longer run, the country has formulated a systematic expansion for growth in power sector, under the Power System Master Plan (PSMP) 2016. The underlying plan compiled for a period running from 2016 to 2041, also includes strategy for diversifying primary fuel supply.
PSMP 2016 indicates that generation capacity requirement in 2021 would be 21,000 MW against the demand of 14,500 MW, in 2030 capacity requirement would increase to 31,000 MW against the demand of 27,400 MW and by the end of 2041 it would rise to 57,000 MW against the demand of 51,000 MW.
At present, power generation from gas based plants is comparatively much higher than other fuels, which often fail to reach their usual capacity due to shortage of gas supply. Consequently, the country has taken up the decision to diversify primary source of fuel in order to reduce dependency on gas based power generation.
By the end of 2041, Bangladesh is aiming to raise share of coal fired power generation to 35% at the expense of gas based generation which would be brought down to 35%. Remaining share accounted to power imports and generation from nuclear and renewable sources.
Power Plant Performance in FY19
Bangladesh's power generation capacity has increased to 18,961 MW by the end of Bangladeshi fiscal year 2018-19 (Jul'18-Jun'19), recording an annual increment of 18.86% Y-o-Y.
Despite claims of reducing dependency on gas based power, largest capacity addition was seen in power plants running on gas.
Apparently, no capacities were added under coal based power station, thereby further reducing its share in total installed capacity. The country is, however, set to begin operation at its first imported coal based power plant in Jan'20 with the commissioning of Payra plant having an installed capacity of 1320 MW.
Source
FY19
FY18
Installed Capacity
% Share in Total
Installed Capacity
% Share in Total
Gas
10877
57.37%
9713
60.89%
Furnace Oil
4770
25.16%
3443
21.58%
Diesel
1370
7.23%
1380
8.65%
Power Import
1160
6.12%
660
4.14%
Coal
524
2.76%
524
3.28%
Hydro
230
1.21%
230
1.44%
Solar PV
30
0.16%
3
0.02%
Total
18961
100%
15953
100%
Source: Bangladesh Power Development Board
Quantity in MW