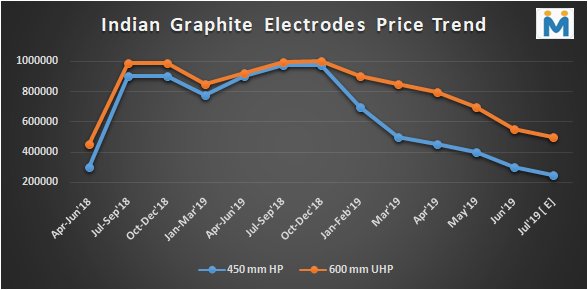 It seems that the tables have turned for the global graphite electrodes manufacturers including that of India as after enjoying the price buoyancy for almost two years, the same are falling freely without any restraint.
Now as per the latest information that various sources have shared with SteelMint, UHP grade GEs have registered a plunge of INR 100,000 – 150,000 (USD 1,500- 2,100/MT) against last month and the price of electrodes of size 600-650mm are in the range of INR 550,000-500,000/MT (USD 7,900 – 7,100/MT) whereas that of smaller size, 450mm are herd to be in the range of INR 225,000-250,000/MT (USD 3,200 – 3,500/MT).
The domestic GE manufacturers that used to have only 10-12 days inventory are currently sitting on the stock of about 1-2 months as the steel mills are delaying their procurement in the hopes of further fall in the GE prices. On the other hand, GE manufacturers are already dealing with the pressure of rising raw materials, needle coke (NC) costs. The contracts for the petroleum-based needle coke for the second half of 2019 have been settled at USD 4,000-4,500/MT. Now if the GE prices fall further, it is likely that electrodes producers margins may see sharp fall in coming months of the ongoing year.
The key reasons for GE plunge
The positive sentiments in India's electrodes market turned negative when the GE prices in China started plunging towards the end of 2018 amid sluggish domestic downstream demand and increase in the electrodes supplies. When GE prices had surged two years back due to supply side structural changes in the Chinese market, which led to the closure of polluting GE units and subsequent supply shortage, many Chinese GE companies invested either in capacity expansion or building new manufacturing facilities. Over a span of two years, sufficient electrode supply eased concerns in the domestic market subsequently impacting both domestic and global GE prices.
As India has removed anti-dumping duties on electrode imports from China in August last year, the Chinese GE are entering into India without any restrictions. As per the customs data, India's electrode imports in the first three months of 2019 have registered an increase of 53% y-o-y basis. Although majority of imports in India are that of non-UHP grade electrodes, still there is a fear in the market that if Indian manufacturers does not lower their UHP grade GE prices, they may face tough competition from their Chinese counterparts in this segment also.
Apart from this, the GE prices are also plunging from the fact that the steel demand across the globe has turned sluggish over past few months as a result of trade war between U.S. and China and rising protectionism measures amongst key EAF-dominated countries such as U.S., Turkey, and Iran. In fact in case of Iran which was one of the key export destinations, the Indian electrodes manufacturers are not supplying to the country due to the U.S. sanctions imposed on the former last year. This combined with tepid steel demand in various other countries has compelled the Indian GE producers to lower down their electrodes prices and maintain high inventories.
Will Global GE Prices Bounce Back?
So, will global GE prices bounce back and can Indian exporters hope for better days ahead? To keep track of the subtle changes in the global GE market make sure you attend the 2nd Global Graphite Electrode Conference to be organized by SteelMint Events from 27-29 August, 2019 in Thailand.