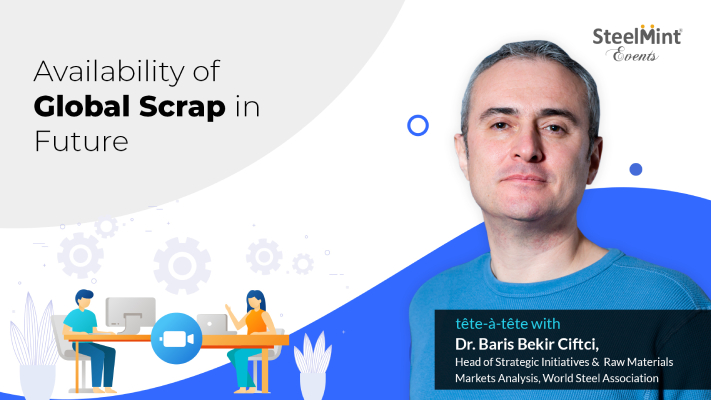 SteelMint Events | tête-à-tête 02 with Dr. Baris Bekir Ciftci, Head of Strategic Initiatives & Raw Materials Markets Analysis, World Steel Association
Dr. Ciftci is the Head of Strategic Initiatives and Raw Materials Markets Analysis at the World Steel Association. He is currently responsible for leading the Association's research activities on steelmaking materials markets and projects aiming to deepen the Association's understanding of the most pressing strategic issues the global steel industry is currently faced with. He has conducted international level economic and market studies on topics that stand at the top of the research agenda for steel and steelmaking materials markets over the last 10 years
The topic of discussion for this tête-à-tête with Dr. Ciftci is the current situation of the global scrap market amid the prevailing lockdown situation across the major markets and the availability of Global Scrap in future. We will also take a close look at how covid-19 pandemic has impacted the overall industry, the tightening of supply and diminishing demand at the same time and an outlook of the scrap market.
Key points of discussion
• Global scrap availability tightening further in the near term
• Major challenges of the US and Europe scrap recycling yards
• When can the impact of Scrap recycling yard shutdowns be expected to overcome?
• Impact of the pandemic on the crude steel output, iron ore & coal supply
• Will low finished steel demand in major import markets balance out the low scrap availability amid COVID-19?
• Long-term outlook on scrap availability?
~Interview by Shreya Divakaran and Akshay Sharma