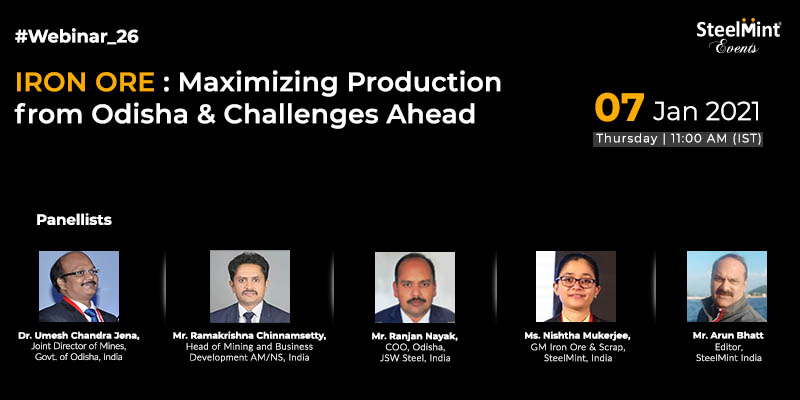 Indian iron ore and steel industry has been going through a tough phase on tighter iron ore supplies, especially in the state of Odisha which observed the auctioning of key mining leases. The exchange of hands, logistical constraints, and the pandemic have curtailed iron ore production in the state. With just 11 auctioned iron ore mining leases being able to resume production, out of 19 mines till Nov'20, Odisha iron ore fines prices have shot up by over three-fold in the last six months. Let's get insights from industry stalwarts on the current scenario and the way forward.
Key points of discussion –
Challenges being faced by the new lessee in Odisha
Odisha govt's take to ease supplies in the state
Status of iron ore inventories at auctioned mining leases
How will the change in stacking norms improve supplies?
When do we expect virgin iron ore mine blocks to be auctioned in Odisha?
Date & Time – 7 Jan'21, 11 AM (IST)
Speakers:
Dr. Umesh Chandra Jena, Joint Director of Mines, Govt. of Odisha, India
Mr. Ramakrishna Chinnamsetty, Head of Mining and Business Development AM/NS India
Mr. Ranjan Nayak – COO, Odisha, JSW Steel, India
Ms. Nishtha Mukerjee, GM Iron Ore & Scrap, SteelMint, India
Mr. Arun Bhatt, Editor, SteelMint, India