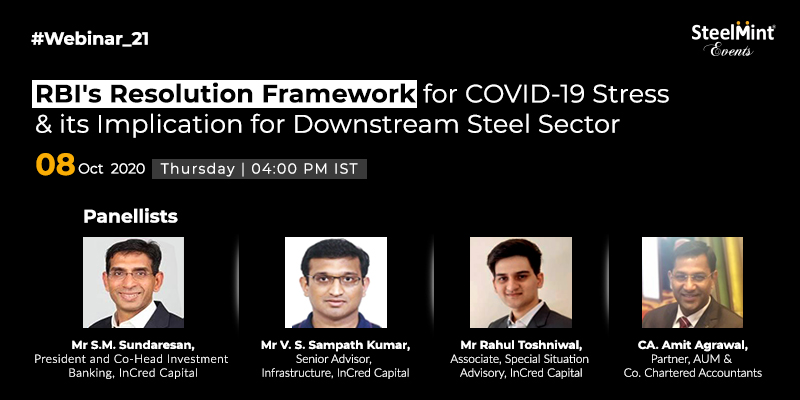 COVID 19 pandemic has disrupted operations across the nation and also affected the steel demand in FY 20-21 which is slated to fall by about 15%. In result, the market has encountered challenges on account of labour shortage, hampered logistics movement and poor demand. It has also resulted in significant financial stress on Indian Companies in the Downstream Steel Segment and has potentially impacted long-term viability of borrower companies, as existing debt obligations have become disproportionate to the cash flow generation capabilities.
In order to address the situation, The Reserve Bank of India ("RBI") has allowed a special one-time dispensation to lenders to restructure the loans of companies & individuals which are stressed specifically due to the pandemic via Circular "Resolution Framework for Covid-19 related stress" on Aug 06, 2020. Under this framework, lenders can restructure the outstanding balance debt and give borrowers more time to pay back with an extension up to 2 years of the residual maturity without classifying the account as NPA.
Date: Thursday, 8th Oct, 04:00 PM (IST), 6:30 PM (Singapore time), 2:30 PM (Dubai time)
Panellists:
Mr S.M. Sundaresan, President and Co-Head Investment Banking, InCred Capital
Mr V. S. Sampath Kumar, Senior Advisor, Infrastructure, InCred Capital
Mr Rahul Toshniwal, Associate, Special Situation Advisory, InCred Capital
C.A. Amit Agrawal, Partner, AUM & Co. Chartered Accountants


SteelMint Events in association with Incred Capital brings you, experts, to understand RBI's Framework in detail and the necessary steps to be taken to apply for a resolution plan.
Key points of discussion:
Financial stress
Resolution Framework for Covid-19 related stress
Criteria for being an Eligible Borrower
Eligible Lenders under Framework
Step-by-Step Resolution Plan
Live restructuring mandates