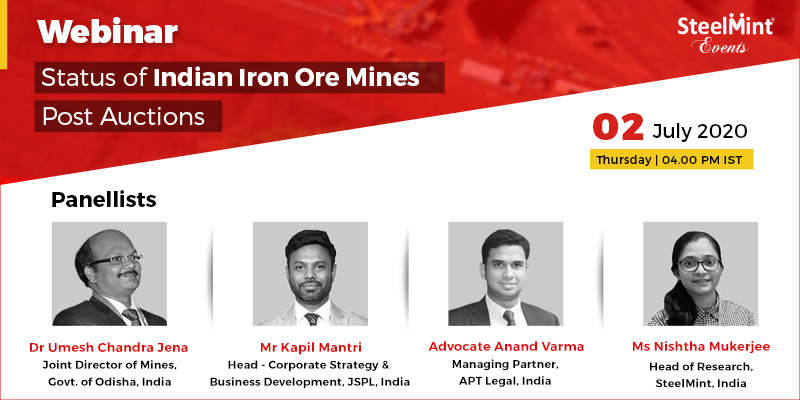 Odisha's iron ore mining industry is undergoing a turnaround. On one side, the auctioned mining leases whose tenure lapsed on 31 Mar'20, have stopped production as per MMDR Amendment Act. While on the other side, despite the Centre extending the validity of all statutory approvals of the mines by two years, they are yet to recommence production as statutory clearances and paperwork got delayed in the wake of COVID-19 outbreak. As an outcome, the state's iron ore production fell by 56% m-o-m in Apr'20.
The key bidders are hopeful to start mining from Jul'20. Let's get insights from industry stalwarts on the current scenario, estimated production impact and the way forward.
Date & Time:
July 2, Thursday at 4:00 PM (IST), 6:30 PM (Singapore time), 2:30 PM (Dubai time)
Panellists:
Dr Umesh Chandra Jena, Joint Director of Mines, Govt. of Odisha, India
Mr Kapil Mantri, Head- Corporate Strategy & Business Development, JSPL, India
Advocate Anand Varma, Managing Partner, Apt Legal, India
Ms Nishtha Mukerjee, Head of Research, SteelMint, India

Key points of discussion:
Current scenario of Odisha's iron ore mining industry
Operational mines as of now which are active in the merchant market
Status of MDPA execution and upfront payments
Effect on the transition of machinery & change of hands
Impact on production considering the effect of monsoons
Outlook on the resumption of activities of the auctioned leases
Will low-grade iron ore fines export volumes get impacted?