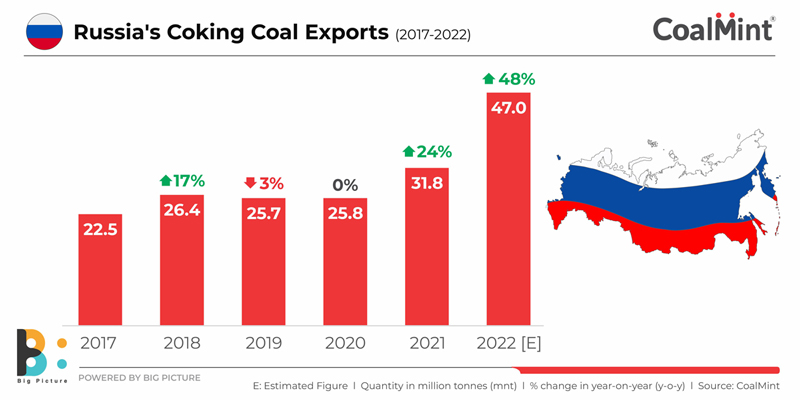 Russia's seaborne exports of coking coal and PCI coal are estimated to have increased by a sharp 48% y-o-y to 47 million tonnes (mnt) in 2022 from around 32 mnt in 2021, as per provisional data maintained with CoalMint. Although sanctions on Russia cut off seaborne supplies to traditional importers such as the EU, Japan and South Korea, increased exports to China and India contributed to the growth in export volumes.
The EU has hitherto been heavily dependent on imports of Russian coal, which accounted for 46.7% of all EU imports of solid fuel last year, according to Eurostat data.
Leading importers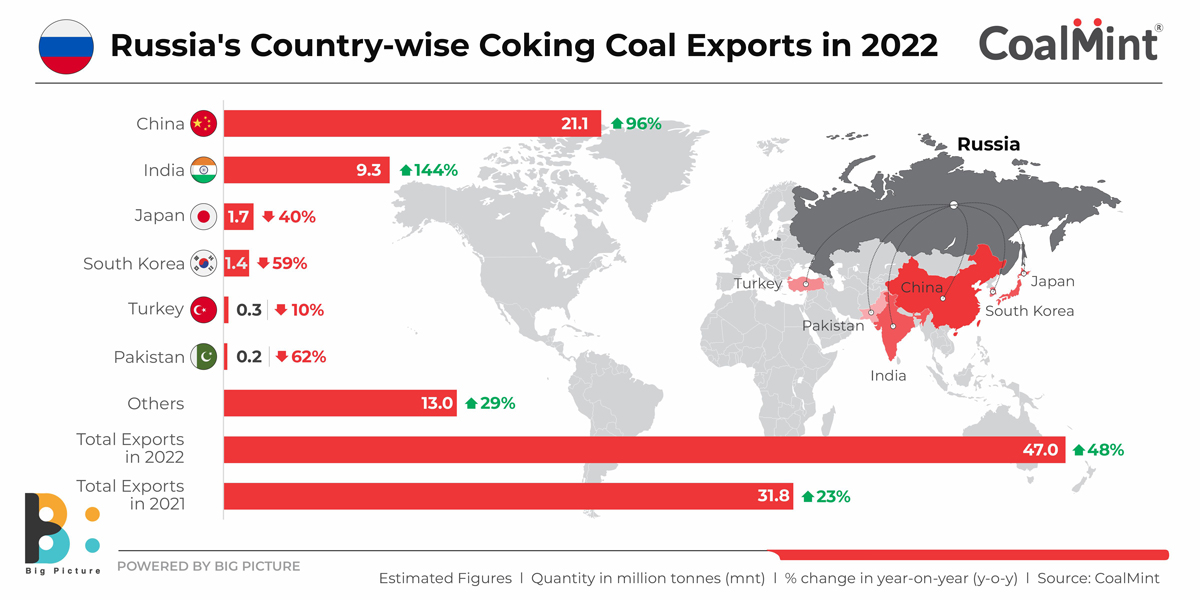 Russian PCI and coking coals saw stronger demand in China, and also into India, trading at prices lower than for alternative coals from Australia and North America.
Data reveal that Russia's met coal exports to China increased by nearly 100% y-o-y to over 21 mnt in the year gone by. Despite China's crude steel production falling around 2% y-o-y in 2022 and relatively low domestic coal prices due to extensive COVID-induced lockdowns, imports from Russia surged due to high discounts offered by Russian suppliers post imposition of trade sanctions.
Russian met coal exports to India edged up even more sharply by over 140% y-o-y to 9.3 mnt. The country's crude steel production increased by 6% y-o-y to over 124 mnt in 2022 while coking coal imports were stable at around 70 mnt. Cheaper Russian cargoes were lapped up by Indian coal importers amid high global coal prices following the outbreak of the Russia-Ukraine war.
On the other hand, Russia's exports to traditional markets such as Japan and South Korea fell by 40% and 59%, respectively amid sanctions.
Moreover, the ban on the transport of Russian coal was amended in September and allowed for the provision of services like shipping, financing and insurance needed to transfer coal and other products by ship to destinations outside the EU in order to alleviate the energy crisis worldwide. Since then Russia's seaborne coal exports jumped sharply, with many of the shipments going to Asia.
Outlook
Russia's production of met coal increased by 4.5% to 105 mnt in 2022, as per Rosstat data. However, higher export shipments may not be possible due to logistical bottlenecks. Cancellation of discounts on coal freight levied by the RZD may exert pressure on suppliers to curtail discounts. Also, China's lifting of an unofficial ban on Australian coal imports, higher shipments by Mongolia and enhancement of domestic production are likely to affect China's imports of Russian coal.
However, Russian suppliers looking to ramp up exports to China know that higher discounts are likely to increase the attractiveness of Russian cargoes, even for Indian buyers. Going forward, India's coking coal demand is likely to increase and – quality considerations apart – if Australian supplies become costlier post China's re-entry into the Asian seaborne met coal market, Indian buyers may have to fall back on Russia.
2nd Asia Coal Trade Summit
Will Russian met coal exports to Asia increase in 2023? How will trade dynamics pan out with the continued sanctions on Russian exports? How is Russia gearing up to consolidate its logistical networks to channel increasing volumes to Asian buyers in the coming years? For in-depth insights on such pressing issues and more, sign in for CoalMint's 2nd Asia Coal Trade Summit to be held in Bangkok, Thailand on 24-25 April, 2023