Iron ore exports from Karnataka are about to resume after a gap of 10 years, SteelMint heard from market sources. Exports from Karnataka were banned in 2012 by the Supreme Court, which was in effect till May this year, with the aim of preventing environmental degradation and to ensure that the mineral resources of the state were preserved for the domestic industry and for future generations as part of the concept of inter-generational equity.
The Supreme Court on 20 May this year lifted curbs on exports of iron ore from Karnataka and eased all restrictions on sales from the districts of Bellary, Chitradurga and Tumkur where mining activity had been prohibited following rampant environmental transgressions in 2011.
As per a recent update received by SteelMint, a leading miner in the state is planning to export a capesize vessel of iron ore fines for which the material is already in the process of being transported to Krishnapatnam Port. Market chatter is revolving around the near-term prospects for iron ore and pellet exports by Karnataka-based miners.
Factors which may drive exports
Lifting of export curbs: The apex court lifted curbs on iron ore exports and allowed iron ore operators in the state to sell excavated ore through direct sales as against just through e-auctions. This is a win-win for merchant miners and steel companies. By lifting the ban on exports of iron ore, the court opened an avenue for sale of surplus ore, which the industry had been pleading for. Also, the export duties on pellets and iron ore (except high-grade) have been rolled back recently. It should be noted that there is a possibility of existing low-grade iron ore stocks at mine pitheads in the state to come for exports in the short term. These are estimated at around 6 mnt, as per sources. Additionally, some volumes of seized material around 20-30 mnt are yet to be lifted, which may also come up for exports, as per sources. Besides, some small volumes of fines with sponge iron (CDRI) producers in the state might well get earmarked for exports.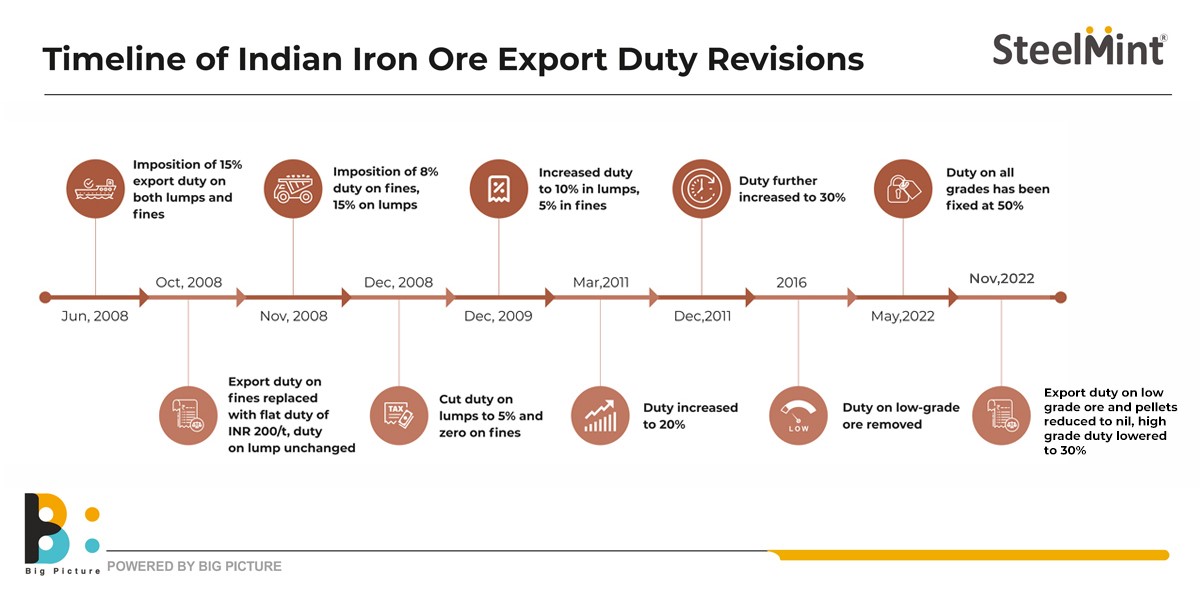 China demand: After a long lull induced by Covid-related restrictions, the Chinese market is showing some positive sentiments due to the 16-point stimulus package announced by the government for the real estate sector, which accounts for around 35% of China's steel demand. The possibility of a turnaround in the property sector has been driving iron ore prices higher over the past month, along with loosening of Covid restrictions. A weaker dollar, optimism about China's economic recovery and positive developments in the real estate sector boosted market sentiment, as iron ore futures on the Dalian Commodity Exchange (DCE) have hit a 6-month high. As global iron ore fines Fe 62% prices have recovered from $80/t in the beginning of November to over $110/t currently, the incentive for exports is always present.
Production ramp up: The Supreme Court has raised the iron ore production ceiling in Karnataka from 35 mnt to 50 mnt from the A and B category mines. The production cap in Bellary has been raised to 35 mnt from 28 mnt, while in Chitradurga the ceiling has been raised to 15 mnt from the erstwhile 7 mnt. Therefore, the total cap has been increased to 50 mnt. The apex court had lifted the five-year-old ceiling on production from 30 mnt to 35 mnt for A and B category mines in 2018. There was no cap on the C category mines. It has been generally observed that total iron ore demand in the state stands at around 38 mnt annually. Therefore, following the possible production ramp up in the state, there is always the possibility that surplus material would be left for exports.
Karnataka road show
How is Karnataka's iron ore and pellet industry shaping up post SC verdict? What is the potential in terms of production, demand, exports, and sales? Are you an industry stakeholder keen to find answers to these and several other queries? Book your seat at SteelMint's Road Show-cum-Conference on Karnataka's Mining Sector to be held on 19-21 January, 2023.