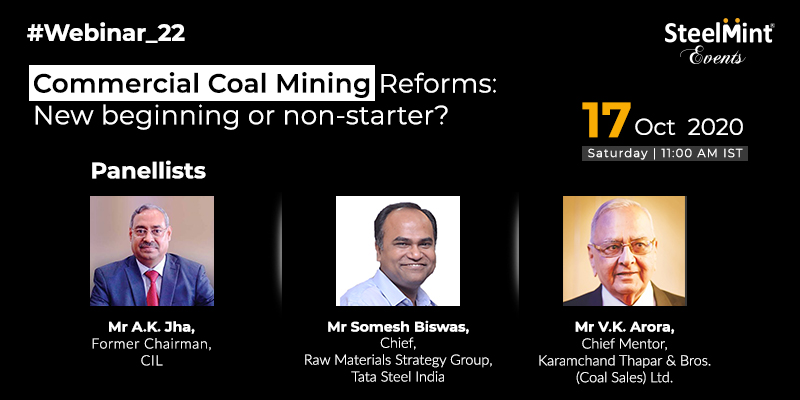 The government has invited technical and financial bids for 38 coal blocks to be submitted for commercial mining. Sans the restrictive end-user clause in mining auctions, commercial mining is expected to boost output and rein in burgeoning coal imports. However, uncertainties persist about private participation in coal mining, especially at a time when core sectors of the economy are grappling with the pandemic-induced slowdown. Join us as we interact with our panel of experts on a plethora of pressing issues.
Date: Saturday, 17th Oct, 11:00 AM (IST), 1:30 AM (Singapore time), 9:30 AM (Dubai time)
Panellists:
Mr A.K. Jha, Former Chairman, CIL
Mr Somesh Biswas, Chief, Raw Materials Strategy Group, Tata Steel India
Mr V.K. Arora, Chief Mentor, Karamchand Thapar & Bros. (Coal Sales) Ltd.

Points of discussion:
Restrictive industry structure as a disincentive to private participation in coal mining
Concerns related to quality of domestic coal, grade slippage
National Coal Index, grade issues and rationale behind factoring in import prices in NCI
Will commercial miners be able to match lower prices than CIL?
Delay in approvals/difficulty in acquiring land as against facilities available to PSUs under Coal Bearing Act
Evacuation and logistical concerns around blocks to be auctioned
Renewables and new investments in coal mining – the broader picture