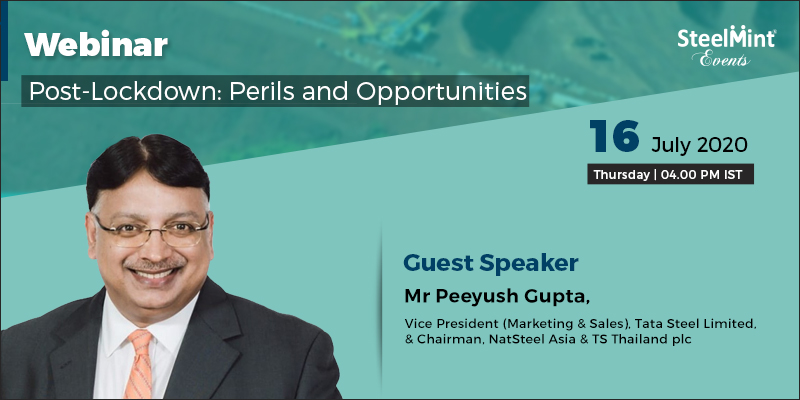 With the easing of lockdown, how has the scenario changed for the steel industry in India and overseas? Where are the opportunities and challenges at this juncture? The government has also announced a slew of measures. How will steel benefit from these? How will the recovery trend look like? Will it be longs-driven? We catch up with Tata Steel Limited to get a clearer picture.
Join us live on Thursday, July 16, 4 pm (IST), 6:30 PM (Singapore time), 2:30 PM (Dubai time) as we interview Mr Peeyush Gupta, Vice President (Marketing & Sales), Tata Steel Limited & Chairman, NatSteel Asia & TS Thailand plc, to understand the group's plans for the future against the pandemic outbreak.
At 18.21 million tonnes, Tata Steel India was the largest domestic crude steel producer in 2019-20. This growth was led by a ramp-up of Tata Steel BSL and acquisition of Usha Martin's steel business by Tata Steel Long Products last calendar.
Tata Steel India, during FY20, also posted its best-ever annual sales, although Q1FY21 sales and production were lower y-o-y and q-o-q. Tata Steel is currently the world's second-most geographically-diversified steel producer and one of the few steel operations that are fully integrated – from mining to manufacturing and marketing of finished products.

Key points of discussion:
The COVID-19 effect on steel demand & consumption in India
What kind of recovery is expected in H2 FY21?
Impact of the auto sector slowdown on steel
Strategies needed to increase steel consumption in India