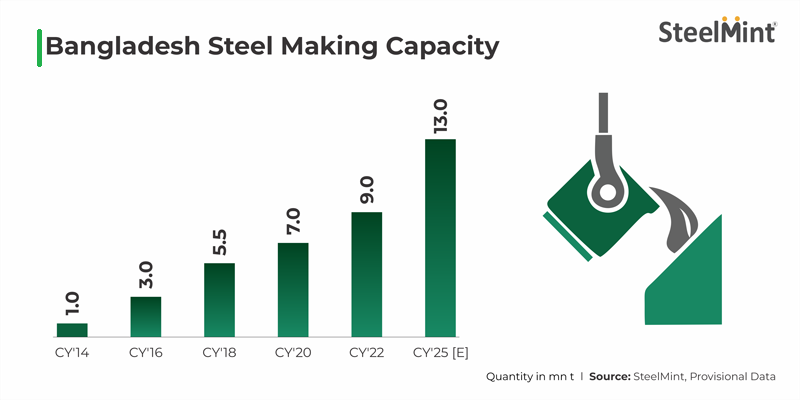 Bangladesh set to increase steel melting capacity around 13 mnt by 2025
BSRM, AKS, GPH and many other mills are setting up additional capacity
Bashundhara, Meghan & Akij entering steel business
Bangladesh, one of the largest ferrous scrap importers in South Asia, is likely to witness an increase in steel melting capacities from 9 million tonnes (mnt) per annum currently to around 13 mnt by 2025 due to the growing demand for steel, cement, power and upcoming infra projects.
Renowned steel producers in Bangladesh like BSRM, AKS, GPH, and many other mills are setting up additional capacity and facilities to cater to government-funded infrastructure projects in the coming years.
Bashundhara Group is expanding its capacity to 1.2 mnt (EAF) in the 1st phase and 2.2 mnt (DRI) in the 2nd phase; Meghna by 1 mnt (EAF); AKS and Unitex by 800,000 t; BSRM by 500,000 t; and Akij by 300,000 t.

Why is Bangladesh an emerging economy?
GDP growth rate: The economy of Bangladesh has a projected GDP growth rate of 6.4% for FY'23 as an emerging and fastest growing economy after India in South Asia.
Increasing steel demand for govt-funded projects: Steel demand in Bangladesh may remained supported mainly due to the government-funded infrastructure projects which were launched to stimulate the economy hit by COVID-19. Projects such as the Ashrayan Project, Metro Rail, Karnafuli Tunnel and elevated expressway from Dhaka Airport to Kutubkhali are expected to boost infrastructure construction. Hence, scrap demand is also likely to remain supported this year as well as in 2023.
Development of port facilities: Due to inadequate port facilities in the country, large ships were unable to enter Chittagong port. However, the Bangladeshi government has started working on projects such as the Matarbari Deep Seaport, which is estimated to be completed by 2026. Once these projected ports are completed, steel manufacturers will be able to import scrap more easily, which will ultimately speed up their production.
Expert opinion
"Over the past five years, Bangladesh has become an integral part of the ferrous scrap trade in the South Asian region. As new steel capacities come onstream, scrap suppliers are looking forward to continuing the close relationship with the country in the years ahead," stated Zain Nathani, Director, Nathani Group of Companies, India.
Sanjoy Ghosh, Head of Supply Chain, BSRM, said: "Steel industries in Bangladesh are entering into a new phase amid higher demand forecast in line with projected economic growth. Despite the current global economic turmoil, all major plants are into enhancing their capacity and also new plants are trying to create a footprint in the market in order to cater to future demand. So, it is challenging time ahead for entire steel industry."
Scrap import scenario
Bangladesh is a country which is entirely dependent on scrap for steelmaking. The volume of imported ferrous scrap (both bulk and container) into Bangladesh stood at 2.83 million tonnes (mnt), up 53% in the first half (H1) of 2022 as against 1.85 mnt seen in the same period in 2021.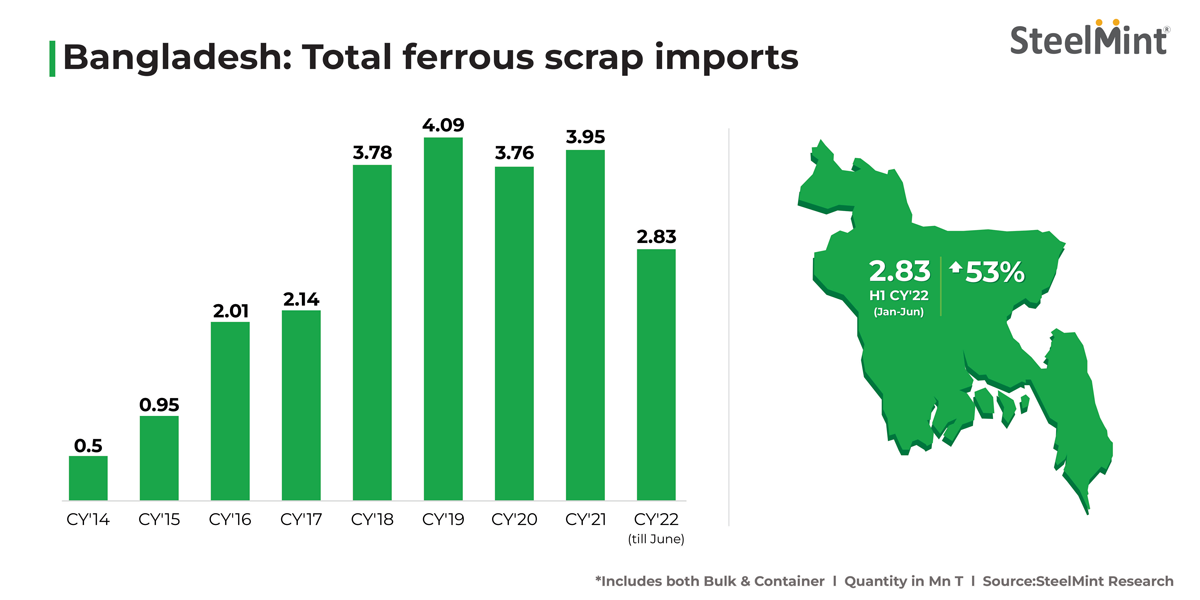 As Bangladesh is eying over 6% GDP growth in the current year, the South Asian nation is making a concerted effort to spearhead infrastructure spending, which is expected to increase steel consumption going forward. However, it will be interesting to see if demand remains supportive against the backdrop of rising steel capacity.
Join our event to know more on whether Bangladesh' scrap imports will touch 6 mnt by 2025.
SteelMint Events will be hosting the 3rd Steel & Raw Material Conference, Emerging Bangladesh on 20-21 September, 2022 at Hotel Radisson Blu, Chittagong, Bangladesh. The conference will explore key issues like the country's steel production and demand outlook, global scrap trade flow changes, especially post-the Russia-Ukraine war, the ship recycling scenario, key emerging sectors, price trends and a lot more.